Utilizing Vegas Lines
"They've done studies, you know. Sixty percent of the time, it works every time."
-Brian Fantana, Anchorman
If using Vegas lines can help us win 60 percent of the time, every time, count me in.
I have no way of knowing the exact number, but I would guess that close to 95 percent of high-volume DFS players factor Vegas lines into their daily research routine in some fashion. The reasoning is simple. Vegas lines give us an accurate representation of the expected outcome of any single sporting event. Vegas lines are free, easily accessible, and there is a linear relationship between fantasy production and Vegas team totals.
The few people who don't incorporate Vegas lines into their analysis argue that they either 1. can't trust the sportsbooks, or 2. the lines are too influenced from public betting. The common thought is that Vegas wants to create lines in order to get 50 percent of the action on both sides of the bet. This would allow the sportsbooks to have equal action and to take their five or ten percent off the top. While this would be a perfectly acceptable scenario for the sportsbooks, this is rarely the case. There are very few games that end up having equal action on both sides.
The reason that we can trust the lines is simple. A sportsbook's viability depends on it. There are millions and millions of dollars bet every single week in the NFL and Vegas MUST create accurate lines, or the sportsbooks will quickly be out of business. Vegas needs actual outcomes of games to fall on both sides of the line 50 percent of the time over the long run. They don't mind taking a bet one way or another, as long as they are on the right side of the line at least 50 percent of the time.
To read the rest of this lesson, you must purchase the course!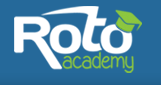 RotoAcademy offers one-of-a-kind, data-driven content to help you win.