What Types of Hitters Play Best at Coors?
Coors Field: Hitter's Heaven!
Right?
Okay, sure. But here's the thing: my idea of "heaven" may be very different from yours. And in that same way, one hitter's idea of "heaven" may be very different from another's.
If this were the "olden days" of DFS, it wouldn't matter all that much. In the "olden days," prices for hitters did not change based on whether or not they were playing at Coors. As such, you could upgrade nearly everyone in cash games and load up on any and all Coors Field bats you could fit in your lineup in order to give yourself the best shot at cashing. After all, even a guy who pretty much hits nothing but ground balls will at least be likelier to make contact at Coors, and a cheap hitter who is "likely to make contact" is always a good thing.
But then, DFS sites got wise to Coors Field and started doing what they should have done years ago (what DraftStreet used to do, when they were in business — which was what led me to learn all this about Coors Field in the first place!), and that is bumping up players' prices when those players will be at Coors.
To read the rest of this lesson, you must purchase the course!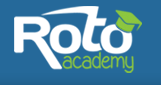 RotoAcademy offers one-of-a-kind, data-driven content to help you win.