DraftKings Millionaire Maker Trends Through NFL Week 5
Sometimes we need to think about other ways to win in DFS other than simply playing the best plays. Looking at trends of top lineups is one route to take to do just that. One of the easiest tools to become a better tournament player is studying the trends of lineups that win or nearly win.
I'll be keeping track of the Top 10 lineups all year long in the same way my 2018 review article did. Look for this article every other week here on RotoGrinders as we dissect trends and lineups in an attempt to make our own lineups better.
If you want to follow these yourself with a little Excel work, you can create your own trends to follow by either downloading the CSV from DraftKings, or just make it easy on yourself by using ResultsDB here on RotoGrinders to gather information.
Flex Usage
In 2018 64.7% of Top 10 lineups used an RB in the Flex. Through the first seven weeks of 2019 we are seeing Top 10 lineups utilize an RB in the flex at a 60% rate. For the most part these RB's are the everydown type RB's like Dalvin Cook and CMC that carry high ownership. The Field is currently using RB's in the Flex at a 50.5% rate on the season so this looks to be a small edge if you continue to use the right type of RB's in your lineups.
WR's are being used in the flex in Top 10 lineups at a 35% rate which is basically the same rate as the entire field is using them in all lineups. The biggest edge you can get is eliminating TE's from your flex usage as generally there is only one or two players from this position putting up GPP winning weeks. This is evidenced by Top lineups using a TE just 5.7% of the time this season while the field in general uses them in 13.7% of lineups so far this year.
Stacks Through Week 7
Game stacks are becoming more and more prevalent in Top 10 lineups as the season progress. I mentioned this in the Week 5 review and the trend is continuing to strengthen as nine out of ten Top 10 lineups from Week 7 were from game stacks.
Here is a graph of the 2018 stacking distribution to see how the game is changing.
Game stacks provide more upside with proven long term correlations and the Top lineups this season are showing this. We have a drastic shift to Game Stacks appearing in Top 10 lineups this season compared to last year as you can see from the two graphs, which tells me if you aren't incorporating this technique into your lineups at a good clip you are likely falling behind in your chances for a big score in the extremely large field GPPs like the Millionaire Maker.
Bust Rates Through Week 7
If you have been reading these since last season you are well aware of possibly the strongest trend of Top 10 lineups since 2018. Having the stones to move away from or be underweight the field on high owned WRs has generally proven to be a worthwhile decision no matter what. This year just over 80% of the three highest owned WR's each week have failed to deliver anything close to resembling a GPP contending score. Hopkins/Fitz/Chark all failed to score well in Week 6, while both Cupp and Cooks bombed out Week 7 at high ownership. Don't be afraid to be different in these 100,000+ person contests at the WR position and look to stack lower owned WR's with their lower owned QB for one of the fastest ways to get to the top as evidenced from every Top 10 lineup from Week 7 having either Rodgers or Stafford each owned around 2% with big days from their low owned receiving options.
Low Owned Players Through Week 7
Above is a graph that shows you where the low owned plays are coming from in Top 10 lineups so far this season. Just over half of all Top 10 lineups this season have featured a QB that was 5% owned or less. 33% of all WR spots including those used in Flex in Top 10 lineups have been occupied by a WR that was 5% owned or less. As mentioned above the stack of a low owned QB with low owned receiving target(s) is a key to unlocking major success in the largest field GPP's in the industry. Being able to pick out the correct low owned combination here is amongst the best possible skills you can have as a GPP player in these games. Spend time thinking critically about the QB's no one else wants to roster and you can get yourself a huge edge.
Another good spot to mix it up is on D/ST, as 31/70 or 44% of all Top 10 lineups have used a 5% owned or less D/ST. We know those defensive touchdowns can be random, so embrace that fact and look for a reason to put a lower owned defense on some of your large field GPP rosters.
Secondary Correlations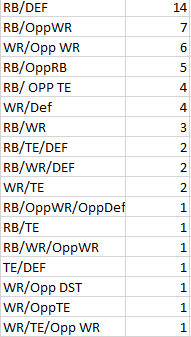 Above is a list of every Secondary Correlation from Top 10 Lineups through Week 7.
20% of Top 10 Lineups this season have used a RB/DEF stack. If you add in three man secondary team stacks including the defense we are up to 28% of Top 10 lineups incorporating a RB/DEF stack. Lots of people like to hate on this particular stack but it's clearly been effective this season. Think Lindsay/Broncos or CMC/Panthers or Latavius Murray from Week 7 as the type of players/team you should be attempting to incorporate when utilizing the RB/DEF correlation.
If we combine all the 2-man secondary game stacks we have 31.7% of all lineups containing some form of this combo. Examples from Top 10 lineups last week would include Dalvin Cook #marvin-jones)Marvin Jones":/players/marvin-jones-13592, Latavius Murray #allen-robinson)Allen Robinson":/players/allen-robinson-18179, Stefon Diggs #marvin-jones)Marvin Jones":/players/marvin-jones-13592, MVS/"(player-popup #darren-waller)Darren Waller":/players/darren-waller-21556. These combos generally draw from known quantities on both sides of the ball and can be an excellent addition to any lineup you make.
These are the main secondary correlations you should be focusing on, and if you utilize a two or three man stack as your base with a QB, don't be afraid to add in 2 secondary correlations to those teams so you can compete with the upside of the four and five man game stacks that seem to be leading the way so far this season. .
Week 7 Winning Lineup
Congratulations to g0aky on a big win. This lineup incorporated plenty of things I have been talking about since the 2018 review article to start the season, so let's walk through this and appreciate some solid large field GPP construction. The base of this lineup is a 3-man game stack with a 2.2% Aaron Rodgers paired with a 2.8% owned Jimmy Graham and running it back with a high owned Josh Jacobs. It's rather surprising that the winner did not have Darren Waller and his 34 FPTS at TE but this shows you don't need the absolute nuts at every position to win even the largest field contests. G0aky took this lineup and supercharged it with 2 other secondary correlations by including the Cook/Diggs/Jones RB/WR/OppWR stack from the Lions game and also playing a twist on the RB/DEF stack by using a WR/DEF stack from the Bills game with John Brown in a game he obviously expected the Bills to dominate. A lower owned workhorse RB in Latavius Murray rounds out the lineup. By getting two games correct in the GB/OAK game as his main stack and the MIN/DET game as a secondary game stack, he was able to nailsix of nine roster spots by simply assuming the correct outcome from just two games. This shows the power of secondary correlations as an addition to your main QB based stack.
Hopefully, this can help you look at the way you make your teams in a different light and help you make lineups more correlated with what the top lineups are actually doing.
See you again after Week 7!
Image Credit: USA Today Sports Images