FantasyAces Weekly Preview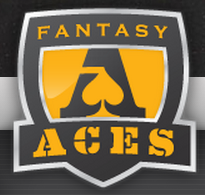 Hello Gamers! I have the honor of filling in for my friend StevieTPFL this week.
Can you believe that we are already a quarter of the way through the NFL regular season? It certainly does move fast, so be sure to get in on the fun with a variety of price points for the FantasyAces Week 5 contests.
This week we are going to break down the featured contests on FantasyAces, and talk about how to make money for just playing on the site.
If you haven't signed up for FantasyAces yet, just click here to create your FantasyAces account and receive your deposit bonus plus an annual subscription to Grinders Incentives (an additional $180 value) for free.
On interesting aspect that makes FantasyAces unique when compared to other daily fantasy sites is that they offer a monthly bonus for accumulating victories on their site. They do have a few parameters that need to be met in order to qualify, however they are achievable and reward the steady Grinder.
The first benchmark is that you need to have $750 in winnings in the month. If that milestone is met and you win at least 50 games, you will make it into the first tier of the special payouts and at the end of the month FantasyAces will credit your account with 10 cents per win. Additional wins will move you into higher payout brackets. Full details are below:
DETAILS

&

RULES

$750 in monthly winnings plus 50 wins or more will put you into the bonus!

• Level 1: 50 – 199 wins = 10 cents per victory!

(Example: win 65 contests and receive a $6.50 cash bonus)

• Level 2: 200 – 399 wins = 20 cents per victory!

(Example: win 250 contests and receive a $50.00 cash bonus)

• Level 3: 400+ wins = 30 cents per victory!

(Example: win 450 contests and receive a $135 cash bonus)
College Football
There is already $2,500 in guaranteed prize pool contests for the Thursday and Friday College Football slates and on Saturday, there is of course the crown jewel of the weekend in a $535 30-entry contest with the winner getting a ticket to the FantasyAces College Football Championship. This special contest is a Live Final with 12 participants playing for a $100,000 prize pool.
The great thing about FantasyAces is that in addition to the Live Final qualifier, they also have tournament buy-ins at various levels ranging from $2.75 to $27.50 giving Grinders options at the various price points within their bankroll means.
"SalaryPro" Flex-Cap Format
An interesting contest format available in the various sports offered on FantasyAces is the "SalaryPro" flex-cap format. How many times have you created that perfect lineup on a site only to learn you were just over the salary cap? Well that is no longer an issue if you play on Fantasy Aces.
In the "SalaryPro" contests you are allowed to exceed the salary cap by starting out with a negative score (aka penalty points) of -0.4pts for each $50 you are over the cap. On the flip side, you are awarded +0.3pts for every $50 you are under the cap. This is great if you have really done your research and found a couple extra sleepers who you think will really perform for you.
NFL
Of course the NFL is what draws most gamers attention and there are several tournament offerings at various price points between $0.50 and $22 in addition to THREE seats awarded to the FantasyAces $500K Football Championship live finals held on December 13th.
One intriguing wrinkle that FantasyAces offers that not a lot of other sites do is that their NFL rosters have two quarterback slots as well as two flex slots. This enables a variety of combinations that can be tailored to all sorts of strategies.
For instance, if you like to focus on discounted quarterbacks, just think of what sort of salary cap freedom you would have if you went that route twice. Are you a fan of running backs with a lot of volume? No problem, you can play four total with the two running back slots and the two flex slots. How about a quartet of high upside receivers? The flexibility is there for your imagination.
If you have any kind of strategy questions for FantasyAces, please post it in the comments section. If there's something you'd like to see in this article going forward, please send me a private message.
Good Luck Gamers! ~ EMac