Making Sure Your Bankroll Survives MLB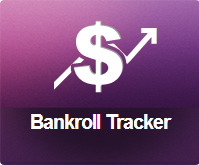 Out of all the DFS sports, baseball season is the longest one by far. While football season lasts four months (just a tad shorter than baseball season), you only get 20 days to play it. NBA lasts nearly as long as baseball, but so much of it occurs during football season that it really is the main sport for only a 2-3 month stretch (mid-January to early April).
In contrast, right now all we have is baseball, and that's the way it'll be until mid-September. Sure, there are golf tournaments and occasional MMA events (and soon NASCAR on DraftKings and SportsTradex), but those are only one day a week at most and the sports are still much smaller than baseball.
All of us want our bankroll to be in tip top shape for the start of football season, so the last thing we want to do is deplete our bankrolls over the summer. Here are some of my tips on how you can stay fiscally in shape for the fall.
1. Make sure to seek out as much value as possible. Take advantage of bonuses (whether it is signup at new sites or reload bonuses). There's also been a fair amount of overlay this baseball season so far across the industry, so take advantage of that. Over the course of a summer, someone who is taking advantage of bonuses and overlay will come out far ahead of someone who isn't at a similar skill level. I went over GPP bankroll tips in my last article, particularly stressing that you need to be flexible to take advantage of overlay opportunities
2. Stick with your bankroll strategy, as long as it is working. If you seem to be losing more than expected, then you may need to change your strategy. It may just be bad luck, but you don't want to wipe out your DFS bankroll over the summer by sticking with a failing plan. Generally the answer is to either play less or change the types of contests you are entering.
3. Try to avoid playing intermittently. If you are going to focus on DFS, try to play at least a few days a week. This way, you can stay on top of the current trends in baseball and don't feel like you have to do a bunch of catchup research. If a person wishes to only play DFS seven days in a given month, I think it would be better if that person played 3-4 days a week for two weeks, then took two weeks off instead of just playing once or twice a week.
4. Accept the variance involved with baseball. There is no such thing as a floor above 0. A hitter can always go 0-for-4, and a pitcher can always get rocked and put up negative points. The floor and ceiling concepts that go with basketball/football just don't apply to baseball as well.
Don't increase your play in a day because you think a certain player is a "lock" for value because that just doesn't happen in baseball. In contrast, in football if a certain player is a clear value play and the public may generally underown him, increasing your play that week would be a viable strategy.
5. Avoid confusing variance with expected value. On any given week, it's easier to have a small win playing H2H and 50-50s compared to GPPs. However, that's not necessarily the case over the course of a season. The edges at 50-50 and H2H are small; in fact generally the house commission has a more compelling effect on your outcome over the course of a season than anything in baseball.
A lot of players will tell you the way to build your bankroll is playing H2H/50-50s. This is true if you are continuously winning and/or you are playing with bonus or reduced rake/overlay. However, for the majority of users, these games are just a slow way to bleed your bankroll. You may be better off learning to play GPPs and aiming to just hit a few big cashes to be in the black for the season.