PGA DFS: Top Masters Picks
The first major of the year is upon us and so is the first million dollar prize in fantasy golf. This week is huge if you are into golf, fantasy sports or just winning money in general. There's a ton of fantasy golf action across numerous sites.
Editor's Note: Haven't heard? We've got DraftKings PGA incentives, which include full projections and expert picks from Notorious, as well as top plays from 2014 FSWA Golf Writer of the Year, Gibbathy! Find out more about our incentives offerings here!
Victiv is hosting its first ever Green Jacket tournament with a $200 buy-in and 30K guarantee prize pool. Victiv's unique scoring and rosters ensures you a better overall chance of having a full squad of players make the weekend and they are definitely worth checking out for fantasy golf. Meanwhile, the obvious crown jewel for fantasy golfers this week is DraftKings' Millionaire Maker Tournament where, for only $20, one lucky person will walk away with the 1 million dollar first prize.
This week I'm happy to bring you my thoughts and preview the field. Finding the best fantasy picks in such an elite field is no easy task but with a million dollars on the line this is no time to be bashful. Let us begin…
The Masters
The Masters is played at Augusta National Golf Club, a par 72 course that can play between 7400-7500 yards depending on setup. There's a ton of things that make Augusta National unique, from their depression era pricing to the banning of running on the grounds, but for fantasy purposes all you really need to know about is the course. Augusta was built on a former tree sanctuary and as a result all of its holes carry names of trees, shrubs or flowers. The course itself has a lot of doglegs and elevation that you often can't see on TV and traditionally a right to left ball-flight has been key. The course was lengthened in 2002 and the greens switched from Bermuda to Bentgrass in an effort to "toughen" the course after Tiger Woods had made it look obsolete in previous years.
Some key stats I've looked at this week include:
Par 5 scoring
Driving Distance
Strokes gained tee to green
3 putt avoidance
Course experience
Par 5 scoring is always key at Augusta. The last ten winners of the Masters have gone a collective -84 on the par 5's and in that same span have gone even on the par 4's. Course Experience is also key, not since Fuzzy Zoeller in 1979 has a player won at Augusta on their first attempt. Players doing well here in the past 5 years have also seemingly always ranked quite well in driving distance and strokes gained tee to green. The course plays long and requires some difficult shot-making so this should not come as a surprise. Finally the greens at Augusta are some of the most treacherous in the world. The ability to lag putt and putt well from within 10 feet will be crucial.
Dustin Johnson
Odds to win: 20-1
DraftKings: $10500
Victiv: $9900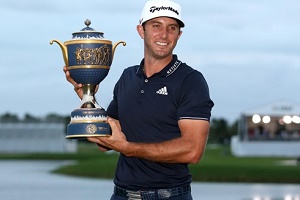 My first pick might also be my most daring. Dustin Johnson carries with him a lot of baggage for gamers and I would not blame you for overlooking him this weekend, but it's possible you do so at great cost. Since returning to the tour back in February, Johnson has simply looked outstanding. He's had finishes of 1st-2nd-7th and 5th on tour in the 6 tournaments he has played, and with a little luck could have won three times already. Johnson currently ranks first in driving distance (10 yards more than Bubba Watson) and first in strokes gained tee to green. His ball striking is simply the best on tour at the moment, and his length and ability to work the ball both ways should allow him to score well on the par 5's. The question with Johnson is whether his game can stand up to the rigours of Augusta. I'm of the opinion that it can. Johnson is priced highly but still gives you room to make a quality team around him. I think he's the best play at the higher levels of salary this week.
Patrick Reed
Odds to win: 40-1
DraftKings: $9300
Victiv: $8200
My second pick is no less controversial. Patrick Reed has only played at Augusta once and missed the cut. History is not on his side. But sometimes you have to take trends for what they are, just trends. Reed's game for all intents and purposes should suit Augusta perfectly. Reed loves to work the ball from right to left and has demonstrated an absolute confidence in his short game and putting that has gone unmatched thus far in 2015 (except by Jordan Spieth perhaps). Reed ranks 13th in 3 putt avoidance and will have a year's experience under his belt to help him cope with the Masters pressure. As a former member of Augusta State University, Reed is more familiar with the course this week than people realize. I think he'll be in contention on the weekend, as he has been all year, and at his price he offers a significant discount from some of the other top favorites.
Louis Oosthuizen
Odds to win: 60-1
DraftKings: $7600
Victiv: $7200
I think the best thing to do with Louis Oosthuizen is ignore his stumble last week at the Shell Houston Open and look at the bigger picture. Oosthuizen has two top ten finishes this year in only five events, including a 6th at the incredibly difficult Doral. He's also as healthy as he has been for a while and that alone makes him a more dangerous player. Oosthuizen hits it far and ranks 9th in strokes gained tee to green and 23rd in par 5 scoring. He's proven to be boom or bust at Augusta having finished second here to Bubba Watson in 2012, he's also missed three cuts since 2009. I think he's a great GPP play this week as he can dominate par 5's when he's on and gives you salary relief other top players do not.
JB Holmes
Odds to win: 50-1
DraftKings: $7200
Victiv: $7600
Sometimes it's ok to go with some chalk in your lineup and that is exactly how I feel about JB Holmes this week. Holmes is simply tearing up the tour so far in 2015 and could easily have 3 wins already. Coming off his first win last week in Houston, Holmes looks primed and ready to take on Augusta National and there's every reason to think he will be successful in doing so. Like Dustin Johnson, Holmes ranks highly in both driving distance (11th) and strokes gained tee to green (9th). Like Dustin Johnson, if Holmes can have a good putting week he will likely challenge for the outright win. Holmes is simply way underpriced this week for fantasy purposes on DraftKings and given his level of play thus far in 2015, it makes him a dangerous fade on that site. He's not someone I would recommend leaving out of your plans completely this week even if he will be owned by half the field.
Ryan Moore
Odds to win: 66-1
DraftKings: $7000
Victiv: $6500
I have a have a good feeling about Ryan Moore. For all intents and purpose Moore has been playing the most consistent golf of his career thus far in 2014/2015 and he's yet to miss a cut on the year. Moore is also entering a prime age for many golfers to start competing in major championships (the average age of Masters Winner's is 33, Moore is 32). While Moore may not be the longest hitter he does rank highly in strokes gained tee to green (30th) and has also been putting at a much better rate this season than he has over his career (28th in 3 putt avoidance). Moore has shot some low rounds at Augusta before and owns finishes of 14th and 13th. I think this is the year he puts together four solid rounds and contends on Sunday. His reduced price makes him extra attractive.
Ryan Palmer
Odds to win: 100-1
DraftKings: $6600
Victiv: $6600
Ryan Palmer is shaping up like my favorite play of the week thus far. Statistically speaking, Palmer ranks highly in every category of importance I've listed in this article. He's 6th in driving distance, 8th in strokes gained tee to green and 27th in par 5 scoring. Palmer may not have the greatest history at this event—having gone MC-10th-MC—but I'd counter by saying that he is undoubtedly playing the most consistent golf of his career at the moment. Palmer also loves to play a huge draw and again that should work in his favour this week. At his price on most sites he's simply the fantasy bargain of the week and someone I'd look to target regularly in most of my lineups.
Russell Henley
Odds to win: 150-1
DraftKings: $6500
Victiv: $5900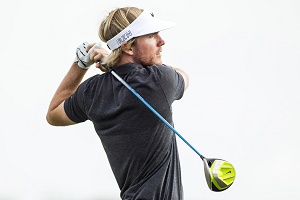 Right next to Ryan Palmer on my list of best value plays is Russell Henley. Henley often gets overlooked due to the rise of Jordan Spieth and Patrick Reed but the truth is, having already won twice on tour, he is one of the best young players in the game. A Georgia native, Henley finished 31st at Augusta last year and should be able to build some momentum from that finish at this year's event. Another good sign, last week at the Shell Houston Open Henley played his best golf of the year finishing in a tie for 4th while leading the field in greens in regulation. Henley is also one of the best putters on tour and currently ranks 13th in 3 putt avoidance. I think his game really fits this course and I believe that his fantasy price this week makes him one of the best speculative plays on the board.
Morgan Hoffmann
Odds to win: 250-1
DraftKings: $5600
Victiv: $4900
My stone-cold punt of the week goes to Morgan Hoffmann. Hoffmann is making his debut at Augusta National so there is going to be some guess work as to exactly how he'll handle the course. However, from a statistical standpoint Hoffmann has good distance off the tee and ranks in the top 50 in par 5 scoring, both good indicators of success at Augusta. Hoffmann is also coming off one of his best performances on tour (4th at Bay Hill) and I expect he'll be wanting to build on that momentum. Hoffmann has traditionally played his best golf on the toughest courses on tour, and last year Augusta ranked as the most difficult par 72 the players faced. This could be a good match for Hoffmann and at under 6K on DraftKings and only $4900 on Victiv I think he's worth a gamble.
Final Notes: If I was going to substitute in two golfers for my top two plays it would be Jimmy Walker and Jason Day. Both have nice histories at this event, both have high ball flights and both have won already in 2015. I reluctantly left Paul Casey off my lists of plays, but he really ranks highly in many of the statistics I looked at this week and could surprise. Finally, I think Brandt Snedeker makes for a great GPP play. He should be very under-owned and carries a great record at Augusta, he's really been lying low since his win at Pebble and loves this event.
Good Luck!