RotoAcademy Adds New MLB Courses
Hey Grinders,
I'm super excited to announce the launch of a number of new MLB courses in RotoAcademy. You can view all daily fantasy baseball courses by clicking on the "MLB" tab, all of the newest courses by selecting the "Newest" tab, and groups of related courses offered at a discount in the "Bundles" tab.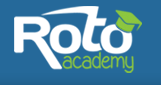 In total, we now have 39 MLB-specific courses. Here's a look at a few of the new ones for 2016:
Notorious's Blueprint to Daily Fantasy Baseball
The Secret to Single-Entry Tournament Success
Starting Pitcher Selection
An Intro to Game Theory in Daily Fantasy Baseball
How to Use FanGraphs Player Pages to Create a Serious Edge
GPP Killers: Red Flag Stats to Avoid
The Hidden Edge: How to Use Weather in MLB
Predicting Hitting: How to Use Performance and Matchups
Predicting Pitching: Researching Matchups and Stats
Advanced Pitcher and Hitter Selection
How to Utilize Batted Ball Stats
Using Pitchf/x Data to Profit in 2016
How to Maximize Stolen Bases in MLB
Where Is the Edge in MLB DFS?
MLB Cash Game Strategy: How to Improve Your Game
In a nutshell, here's RotoAcademy's mission:
• Deliver unique, actionable, and premium DFS educational content and advice
• Provide a sustainable foundation from which you can become a profitable DFS player
• Emphasize the process of truly learning DFS over individual picks
• Continually evolve and adapt
• Maintain a scientific, data-driven approach to DFS
We have additional courses rolling in, so make sure to check back periodically to see what's new in the coming weeks.