RotoAcademy Preview: An Overview of MLB GPPs
This is a video course with Dave Potts (CheeseIsGood) and JMToWin discussing strategies for MLB tournament play. They go through the different types of tournaments and how lineup construction should vary depending upon various factors, such as size of the field, the number of entries, and payout structure.
There is a never-ending array of metrics to look at in baseball, and Cheese guides you through the most important factors to focus on to help you filter out the noise. The goal of this course is to help you set a plan for your tournament play that gives you the best chance of success in MLB DFS.
The video introduction below provides an overview of the ideas presented in the course.
Editor's Note: This is one of the many valuable DFS lessons that can be found over at RotoAcademy. Click here to browse through all of our free/premium offerings and improve as a daily fantasy sports player!
Purchase CheeseIsGood's GPP Guide for MLB DFS (Video)!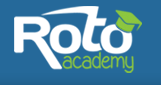 RotoAcademy offers one-of-a-kind, data-driven content to help you win.