Attacking Small-Field and No-Cut Events
I've mentioned time and time again in this course that the main goal in daily fantasy golf is to get as many of your golfers through the cut as possible. The more golfers that you have playing the weekend, the more scoring opportunities you will have, which increases your chance to place in both cash games and tournaments.
However, what happens at the events that don't feature a cut? In these instances, it renders our goal completely useless. Not having a cut changes the dynamic of the tournament drastically, as every golfer in the field gets to play all four rounds, regardless of their finishing position after the first two days of play.
To read the rest of this lesson, you must purchase the course!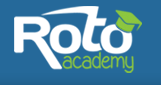 RotoAcademy offers one-of-a-kind, data-driven content to help you win.