Balancing Salary
This lesson is something of a stopping point between Lessons 2 and 4 — the bus stop at which you have to change buses in order to get from "here" to "there" (and no, I'm not sure why I just made it a bus stop instead of an airport, where you could get food and stretch your legs and, furthermore, get on a plane afterward, instead of having to get on a bus. I'm sorry about that. Hopefully the drunk guy in the back of the bus doesn't cause too many problems).
While we could have skipped straight from Lesson 2 to Lesson 4 (and could have avoided the whole "bus stop analogy fiasco" along the way), I wanted to pause for a moment to linger on an important element of "putting it all together" that I think a lot of MLB DFSers misunderstand. And because of exactly how important this idea is, it warranted its own lesson.
Who knows. Maybe this will end up being the most important lesson of the course for you.
Shall I get to it already? Yeah, I guess I should.
Here's what I want to talk about in this lesson:
In MLB DFS, you do not want to fill your team with mediocre plays.
"Wait…what? That's what all of this was building toward? Seems pretty obvious, doesn't it?"
Yes. It absolutely does. And that's the crazy thing about it.
There is a "1" and a "1a" to this that I am going to touch on, and then we'll move onto the next lesson. Don't jump forward, though. Don't just assume you "already know" that we don't want mediocre plays on our teams, and that you therefore do not need to read the rest of this course. Because…
h3=. To read the rest of this lesson, you must purchase the course!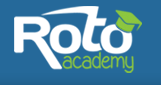 RotoAcademy offers one-of-a-kind, data-driven content to help you win.