Bankroll and Game Selection Process
Game selection could really be its own topic, and we could go on for pages upon pages (or screens upon screens, in this day and age) about it. When you incorporate bankroll theory with game selection theory, you get a fascinating topic. Admittedly, it's also one that not a lot of people agree on. Some folks are "tournament-heavy" players, while some folks are "cash-game" players. These two types of individuals are obviously going to disagree on game selection process. Ultimately, this is another choice that is left for each player to make on his or her own, but there are some over-reaching principles that anyone can apply to help out.
To read the rest of this lesson, you must purchase the course!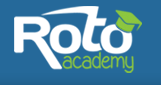 RotoAcademy offers one-of-a-kind, data-driven content to help you win.