Cash Game Strategy
Michael Scott: "What was the most inspiring thing I've ever said to you?"
Dwight Schrute: "Don't be an idiot. Changed my life. Whenever I'm about to do something, I think, Would an idiot do that? And if they would, I do not do that thing."
-The Office
Don't be an idiot. That may be the best advice that you will ever find for cash games.
In general, we refer to a cash game as any contest that pays out at least 33 percent of the field. This includes head-to-heads, double-ups, 50/50's, and triple-ups. Cash games do not have tiered payouts, which means the person that finishes first gets the same payout as the person that finishes in the very last payout spot. Due to the nature of the payout structure in cash games, our goal is to maximize our floor, giving us a chance to finish in the top half of the field (or top third in triple-ups) as often as possible.
If we try to maximize our ceiling, or upside, we will have more volatile results week to week. This is a better strategy for tournaments, but it will also lead to riskier lineups, which leads to less cashes in double-ups and head-to-head contests. For example, let's say that is takes 125 fantasy points to cash in an NFL double-up. Our goal is to maximize our floor, so that we can reach that 125-point mark as often as possible. Here is an example of a three-week stretch that produces varying results.
To read the rest of this lesson, you must purchase the course!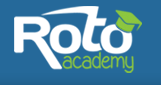 RotoAcademy offers one-of-a-kind, data-driven content to help you win.