Differences Between Season Long and Daily
When I first began dabbling in daily fantasy in 2010, I (to put it bluntly) sucked. The main reason I wasn't any good, I think, is because I wasn't familiar with building a team under the restrictions of a salary cap. Whereas the value of a player in traditional fantasy comes in relation to his draft spot, the value in daily fantasy is tied to his salary. It creates an interesting dynamic that doesn't necessarily have a season-long equivalent.
There are many similarities between season-long and daily fantasy leagues, but there are also a lot of differences. The salary cap is perhaps the most extreme, and it has profound implications on how you can build your team. Here are a few.
A High-Low Strategy
In most season-long fantasy leagues that utilize snake drafts, you're basically forced to create a balanced team. Even if you decide to go heavy at one position, the overall quality of your players in relation to other teams will be pretty even. There won't be a major deviation there; you'll have elite players, mid-tier guys, and sleepers.
In daily fantasy, however, you can build your team however you'd like. Namely, you can implement a high-low strategy through which you combine a few elite talents—the equivalent of multiple early-round picks—with low-priced value plays. There's just a lot more flexibility in how you can create your teams, and that drastically changes how you approach your research and strategy.
Injuries Don't Matter
In 2013, Darren McFadden was getting drafted in the fourth round of a lot of drafts. We all know Run DMC is a really talented running back, but there's major concern that he's injury prone. McFadden might have offered value at his current ADP, but there's also major risk involved with selecting him. Actually, there's risks with every player in season-long leagues; if you lose a first-round pick for the season, your chances of winning are crippled.
In daily fantasy, you don't need to worry about injuries. Injuries are such a random, low-frequency event that they're difficult to predict even on a season-long scale. That means that injuries really aren't a factor in projecting on a daily basis, even for the players considered to be the most prone to getting hurt.
Many times, you can acquire even more value on injury prone players in daily leagues because, at the start of the season, the prices for players on daily sites often closely resemble season-long ADP. But a guy like McFadden, whose perceived injury proneness isn't really an issue on a week-to-week basis, can offer amazing value. In effect, his past injuries are priced into his salary when they shouldn't be. The more overarching point is that player values can really change based on your league format.
Matchups, Matchups, Matchups
In season-long fantasy football, I give absolutely no consideration to strength of schedule. Actually, I've found that there's no correlation between a team's rank in pass defense or interceptions from one year to the next.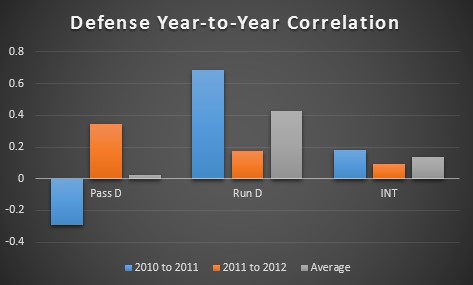 There's a pretty strong correlation for run defense (0.53 since 2007), but even that doesn't matter. Why? Because over the course of an entire season, the overall strength of teams' schedule tends to even out. Actually, if you look at the difference in 2012 rushing yards allowed by the defenses on the schedule of the team with the easiest opponents and the team with the most difficult opponents, it's only 6.5 yards per game. When you factor in the uncertainty in projecting defenses from week to week, there's just no effect there.
In daily fantasy, however, the matchups don't "even out" because there's only one of them. A player's value is strongly linked to his opponent, whereas (ironically) the opponents really don't matter when there are 16 of them in season-long leagues. Thus, your daily fantasy projections, regardless of the sport, are just as much about the opponent as they are about the player in question.
A Wider Range of Options
Lineup choices are pretty easy to make in season-long leagues; you really need to make just a decision or two per week because your available player pool is confined to your particular team. In daily fantasy, however, you can select any player in the league. That dramatically alters:
1) How you approach building your lineup
2) How much research you need to do.
There's no doubt that daily fantasy requires more research than season-long leagues. But it also allows for the final difference between the two formats…
Profitability
This difference is really the reason why daily fantasy is about to erupt. Peter Jennings will break it down for you in more depth in the next section, but there's really no comparison between season-long and daily leagues in terms of potential profitability. Season-long leagues just don't offer the turnaround needed to really profit long-term. You'd have to play at such high stakes to see worthwhile returns.
Meanwhile, we know that some daily fantasy owners are profiting to the tune of six figures each year. That's because they do the research needed to maintain a high winning percentage, basically removing as much randomness from the equation as they possibly can. Since skill plays a bigger role in daily fantasy than season-long fantasy, the disparity between the players widens; great daily players get rewarded more often than great season-long owners. As more and more novice daily players come into the mix, those profits will soar to an even greater extent. And unlike when betting on sports, daily fantasy players compete against one another, not the sharps in Vegas.
There's legitimate money to be made in the world of daily fantasy, and when it comes down to it, that's really why it's a superior option to season-long leagues.
Next Lesson – NFL > UnderGrad > Getting Started >
Profitability in Daily Fantasy