How to Attack Overlay
One of the most misunderstood topics in daily fantasy bankroll management revolves around overlay. If you are a new player, you may be asking yourself what overlay is. Even seasoned players sometimes get the concept twisted around. Let's define overlay using an example:
DraftKings has a huge tournament for the first week of the NFL season. It sports a $20 entry fee and a $10,000,000 total prize pool. The maximum number of entrants into the tournament is 572,500. If the tournament fills completely, DraftKings will take in a total of $11,450,000 in entry fees. That means that the site would take a cut (known as "rake") in the amount of $1,450,000. When you divide that rake by the total prize pool, you get a rake percentage of 14.50 percent. That means to be profitable in daily fantasy tournaments, you need to be able to beat not only the field, but also the rake. With rake up to 12, 13, or 14 percent these days, it's no easy task to complete. That's where overlay comes in.
To read the rest of this lesson, you must purchase the course!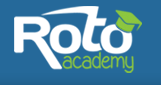 RotoAcademy offers one-of-a-kind, data-driven content to help you win.