How to Proceed
What I do want to talk about, however, is roster construction from this point forward and the different things you are looking for from your hitters in cash games and GPP's.
In general, there are two main elements you are looking for your hitters to have:
1) Power
2) Speed
Unless a hitter is extremely cheap and is batting at the top of the order, it is unlikely you will find a guy on my team who has neither power nor speed. The reason for this is simple: in MLB DFS, capturing as much upside as you can from your hitters is going to be one of the most important factors in consistent success.
Far too often, people make the mistake of targeting "safe" hitters while failing to recognize that there really is no such thing as a "safe hitter." There are hitters who are safer than others, sure. But every hitter's floor, on any given day, is 0-4, and every hitter stays at this floor far more often than any of us would like.
To give you an idea, however, of exactly why "safe" hitters (guys who simply make a lot of contact, and can usually be relied on for one or two singles per game with no stolen base or real run-producing ability) are not where I like to look, we are going to explore a little hypothetical example.
For this example, we are going to take a safe team and a risky team. The safe team is guys who all have high floors, but low ceilings. The risky team is all guys with low floors (guys who perhaps strike out a bit more, and who rely more on their power/speed than anything else), but with high ceilings (stolen bases, extra-base hits, home runs, RBI potential, etc.).
To read the rest of this lesson, you must purchase the course!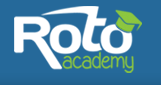 RotoAcademy offers one-of-a-kind, data-driven content to help you win.