How to Start Each Day
When you look at a full slate — 15 games, 30 pitchers, and around 250 hitters — it can be a bit intimidating. "I need to narrow this down to a team of nine or 10 guys?"
Where should you even start?
How can you be certain you are not overlooking guys?
What is the best approach for taking the large chunk that is a "full slate" and then whittling it down to a winning lineup?
Have you ever heard of Stephen King? (No, I swear, this is relevant. Bear with me for a moment.)
Stephen King is this guy who writes books. Like, lots and lots of books. Probably some books you've heard of, like The Shining and Carrie and Misery and Cujo and It and The Green Mile and Hearts in Atlantis and, oh, you have heard of him? You don't need me to keep going?
As a novelist, I'm comfortable revealing to you that most of King's books are actually not very good from a "writing" standpoint (From a "storytelling" standpoint? Well, there are very few who do it better). But while most who understand writing would agree that this is the case, most who are able to open their eyes and look from an unbiased perspective would also acknowledge that the real issue with his writing is not the actual writing itself, but it is instead the lack of editing. The guy is so popular, there is really no reason for him to spend a year or two editing his books and making them "absolutely perfect." Instead, he can knock out a first draft in a couple months, spend a month or two editing, and ship the darn thing off to his publisher. The point I'm getting at is: he's a very talented writer — one of the best there is, really — even if the "finished product" in his books does not always reveal this to be the case.
Okay, none of that was relevant to what I'm about to say. But it needed to be mentioned in case there are any literary snobs such as myself who are also big-time DFS players. Because the part where I was introducing Stephen King was important, and if you're a literary snob (which is probably, like, .02 percent of my audience), I didn't want you to overlook what I say next.
King has a book called On Writing, and it is one of the greatest available sources of writing tips, knowledge, information, and advice. In that book, one thing he talks about is the "excavation" of a story. Basically, in his mind, each story already exists, and the writer's job is to excavate it. He talks about the different tools used to excavate a story, including the "tools" others may recommend (such as "plotting a story from beginning to end") that he sees as being akin to a jackhammer: something that is as likely to destroy the story as it is to help remove the story from the ground.
That, my friends, is how I view the daily excavation of a DFS lineup. Your perfect lineup is sitting there, waiting for you to dig it up from the ground. And it is up to you to excavate it.
So, what are the tools you need in order to complete this excavation?
To read the rest of this lesson, you must purchase the course!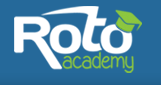 RotoAcademy offers one-of-a-kind, data-driven content to help you win.