Late Swap in Daily Fantasy Baseball
The late swap feature available on certain daily fantasy sites, such as DraftKings and StarSteet, has really changed the way players approach the game. The late swap feature allows users to make changes to their lineups even after the first pitch (or opening kickoff, etc.) in a daily fantasy league, choosing among players whose games have yet to start while of course still remaining under the salary cap. The late swap adds a few new wrinkles into daily fantasy strategy.
Late Swap for Injuries/Scratches
The most obvious use for the late swap—and the likely reason it was created—is to change your lineup when the unexpected occurs, such as a late injury or scratch. This happens all the time in basketball and pretty frequently in baseball, too.
Even if a player isn't scratched, he might just not be in the lineup in a given day of MLB action. The late swap allows you to be a little more risk-seeking with your lineup construction, starting players in late games before their lineup cards have been handed in. If there's a scratch, you're covered.
So how often is the late swap feature utilized? Here's a breakdown of 2013 usage on DraftKings: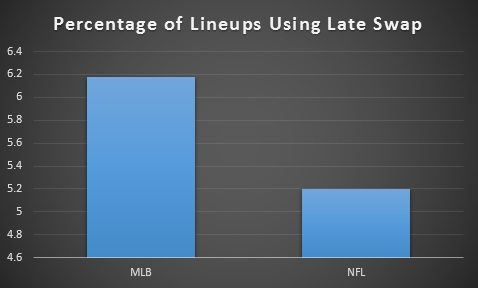 The feature is clearly more popular in MLB than NFL.
Using Late Swap to Increase/Decrease Risk
In addition to subbing out players who aren't in the lineup, the late swap opens up some interesting possibilities with moving players around in the middle of a slate of games, even if they're in the lineup.
Whenever you create your lineup, the goal is to work as efficiently as you can with as much information as you can obtain at the current moment. Well, after a day's games have started, you can begin to accrue more and more information about your lineup—both the players whose games have been played and those who haven't.
Let me give you an example of how this might work. Suppose you're playing Sunday MLB and you choose primarily players in the 1pm EST games, but a few late options as well. You place the lineup into a GPP and you notice that, by around 3:30pm, you're doing okay, but not really outstanding enough to ensure cashing. What you need at this moment is upside.
Using the late swap feature, you can sub out any low-ceiling late-game players for players with higher upside. Maybe you originally started Derek Jeter as a late option just because of salary restrictions (or stacking, or whatever); you could move Jeter out, even if it requires a small dip in salary, to fit a more high-upside player into your lineup—one who can go yard or swipe a couple bags.
Quick side story: I used the late swap at the end of the 2013 football season, and it didn't work out so well. I was competing in one of the DraftKings two-day playoff contests with $100k to first, and heading into the final 4pm Sunday game, I was what I considered the favorite to win this huge GPP. I originally had Eric Decker in my lineup (along with Demaryius Thomas and Peyton Manning), and used the late swap to put Keenan Allen in my lineup. I did that to act as a bit of a hedge since I considered myself the favorite.
Later, I second-guessed the move and, about 10 minutes before kickoff, I switched back to Decker. He ended up with two catches for 32 yards, multiple drops in the end zone, and a punt return that should have gone for a touchdown but he fell for absolutely no reason whatsoever. Meanwhile, Allen had six receptions for 142 yards and two touchdowns; had I stayed with the rookie, I would have won the tourney and $100k in cash.
I'm probably just using this as a forum to complain about this horrible outcome, but it does at least show off some of the strategies involved with the late swap feature, primarily those centered around perceptions of risk/reward.
Using the Late Swap in a Utility/Flex Spot
Another option for the late swap feature that applies more to NFL (but also an MLB option on StarStreet, where there is a utility position) is using a very specific strategy of placing the player with the latest game in the flex or utility spot.
When you put a late-game player in the flex or utility, you give yourself options if you want to use the late swap before that contest. Whereas you'd otherwise need to swap in a player at the same position of the player you want to remove, using the late swap at a flex/utility spot allows you to choose players from more positions.
Selecting an Original Lineup with Late Swap in Mind
One final note is that the late swap should alter how you structure your lineups from the start. In addition to placing a player from a late game in the flex/utility if possible, you can also potentially take a few more chances with your lineup, particularly in regards to stacking.
When you stack players in MLB, it increases your lineup's upside, and we should always be in the business of increasing upside whenever possible, all other things equal. When you stack your lineup, though, there's no rule that says you can't unstack it at a later time; it's fairly easy to switch around a couple players using the late swap feature to use players from a bunch of different teams.
However, it's not so easy to go from a diverse collection of players to a stack, just due to salary cap restrictions. If you're losing after the early games and want upside late, it's helpful to have at least a mini-stack going late to increase your upside, which can be difficult to create if it isn't already present in your lineup. This shouldn't dramatically alter which players you originally choose—you should stick with the best values, all other things equal—but it could add a little more weight to the value of stacking.