Lesson 1: Analyzing Vegas Lines and Team Totals
This lesson focuses on the daily lines set by Vegas and how we can incorporate them into our daily research routine. It covers implied team totals, what they mean, how to compare them, and the impact of blowouts on fantasy production.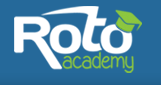 RotoAcademy offers one-of-a-kind, data-driven content to help you win.