Lesson 1: The Art of Lineup Construction
The DFS industry has grown each and every year, especially when it comes to content providers. When I first started playing DFS (I believe it was in 2011 or 2012 – my memory is slowly fading these days), there was basically one article per day on RotoGrinders that was maybe 500 words that broke down each slate. Outside of that, there wasn't anything in terms of content. Everyone had to make choices for themselves and there wasn't really a set standard for what we looked for when it comes to fantasy production. With the growth of DFS, this information is not only readily available, but it's accessible on a ton of sites. These days, everyone knows the importance of Vegas lines, usage rates, matchups, etc. It's to the point where a lot of the edge in NBA DFS isn't in breaking down the matchups or statistics; it's in lineup construction.
One of the most overlooked aspects in DFS is the art of lineup building. I do the NBA Expert Chat on RotoGrinders every day during the regular season and the number of bad plays people put into their lineups always dumbfounds me. If you've never been into the Expert Chat, it's basically as described. Members come into the chat and ask any question that they'd like about that night's slate. Many post their entire lineup and ask if they need to make any changes. Keep in mind that a lot of the people in this chat are very smart individuals who have been playing DFS for years. They'll post a lineup that looks good for the most part, but so many of them have one or two plays that make very little sense.
In this chat, I like to ask why people ended up on certain plays. It amazes me how often people respond with, "I only had ____ salary left and I needed a shooting guard" or "he's going to be low owned, so I like him." Those are NEVER reasons to roster players in DFS. The main goal of this course is to help you become better at lineup building. This includes the single-lineup approach (in cash games and/or tournaments) and the mulit-entry approach.
Let's start with the first mistake
To read the rest of this lesson, you must purchase the course!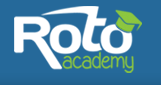 RotoAcademy offers one-of-a-kind, data-driven content to help you win.