Lesson 3: Chalk Plays in DFS - The Good, the Bad, and the Ugly
As an industry, we like to divide DFS players into two groups: Those that play the chalk (popular plays) and those that are more contrarian. The common thought is that it's best to use the chalk in cash games and to be contrarian in tournaments. However, that line is a little more blurred than most people realize. If you pull up any winning tournament lineup, you will likely see a number of players who are highly owned. Likewise, if you are hoping to have a great night in head-to-head contests, you will likely need a contrarian player if you are hoping for a sweep.
There are a lot of misconceptions about chalk, both good and bad. Let's quickly squash some of the myths.
To read the rest of this lesson, you must purchase the course!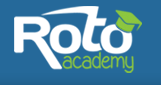 RotoAcademy offers one-of-a-kind, data-driven content to help you win.