Lesson 3: How to Break DownTeam and Individual Matchups
Looking at the Vegas lines every day is easy, but you can take your research a step further in analyzing matchups as a whole. There are pros and cons to using Defense vs. Position (DvP), and this course covers some alternative ways to breaking down matchups, including the crucial statistics that a lot of people don't think to use.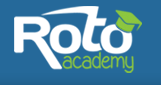 RotoAcademy offers one-of-a-kind, data-driven content to help you win.