Lesson 3: Paying Down at Pitcher - Single-Pitcher Sites
Paying down at pitcher on single-pitcher sites is one of my favorite strategies in MLB DFS. As with any "favorite strategy," a large part of the reason it is a "favorite" of mine is because it goes overlooked – which means we gain an edge; which means we rake in money. Below, we'll look at why this is such a MASSIVE benefit in tourneys on single-entry sites, and when we should look to do this.
____
The Greatest Benefit in Tourneys:
On single-pitcher sites, the day's "popular roster construction approach" is dictated directly by the day's popular pitchers. If a guy with an $11k price tag is drawing all the ownership attention in tourneys that day, everyone who has that pitcher will also end up on the same group of "best value plays" that day in order to make things work. This leads to lots of days on which a huge chunk of the field has A) the same pitcher, and B) the same value plays – leaving very few remaining pieces to differentiate from the field.
People often try to shift away from the popular high-priced pitcher by going to a different high-priced pitcher. By doing this, however, they still end up on the same value plays as everyone else, and are now just relying on the pitcher they rostered outscoring the pitcher everyone else rostered.
When you instead pay down at pitcher on a single-pitcher site, on a day on which everyone else is paying up, you immediately guarantee that you have a unique roster approach compared to the field. And sure, if the 30% or 40% owned value plays bust out for a big game, you're probably not cashing in tourneys that day. But who really cares? We embrace failure in MLB DFS – as we talked about last course. We're not trying to minimum-cash; we're trying to take down the whole freaking tourney. We're positioning ourselves for The Big Score!
To read the rest of this lesson, you must purchase the course!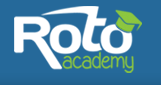 RotoAcademy offers one-of-a-kind, data-driven content to help you win.