Lesson 4: Paying Down at Pitcher - Two-Pitcher Sites
Paying down for pitcher on single-pitcher sites is usually done because of strategy. Paying down on two-pitcher sites is usually done out of necessity – as this is often the only way to fit in solid bats to go along with your arms!
____
The First Key:
One of the most important truths of MLB DFS is this:
Every day is different!
As you aim to "stay afloat" between The Big Scores, you need to be willing and able to adjust your approach from day to day. Those who stick with the same approach no matter what are going to hit The Big Score from time to time, sure. But in between the days on which they hit The Big Score, they will lose back most of (or more than) what they won.
Every day is different!
While others are looking for the "one key" that will help them, or the "one approach" they should be using, you will be continually keeping your eyes open for the best approach for the slate in question – and as you do this, you will be able to capture the most upside that is available to you on each slate.
Don't get locked into a set plan! Adjust from day to day.
____
When To Pay Down?
"Thanks, JM. That's cool and all, but…when should I look to pay down at pitcher on two-pitcher sites?"
The main time you are going to look to pay down for cheap guys is …
To read the rest of this lesson, you must purchase the course!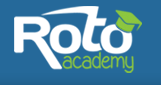 RotoAcademy offers one-of-a-kind, data-driven content to help you win.