Lesson 5: How to Create Leverage in Tournaments
The final lesson will be a bit shorter in length, but it may have the most value. My grand hope for this course is that all of it is valuable, but this last lesson is the most specific to NBA DFS. We've talked quite a bit how you need to put together the best possible team in cash games. Your goal is to finish inside of the cash line, which generally means that you have to finish in the top half of the field.
In tournaments (especially large-field ones), more goes into it than just taking the best plays. In order to finish in the top 1% of the field, we have to differentiate a bit. You will always hear about projected ownerships (which are important to keep in mind), but very few talk about creating a unique lineup construction rather than using one or two contrarian plays.
More often than not, we can get a sense of what the public is going to do in a given slate. When you know who the most popular plays are going to be, you can start to see the route that everyone is going to take when building lineups. For instance, there might be three great value plays in a slate thanks to a few injuries. All three are going to be highly owned, which means DFS players are going to have extra cap space to spend up on superstars.
This will lead to a very common lineup construction.
To read the rest of this lesson, you must purchase the course!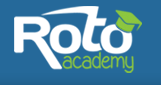 RotoAcademy offers one-of-a-kind, data-driven content to help you win.