Lesson 6: Understanding the Complexities of Hitting
As we said last lesson: you already have all the tools you need. Now, let's keep this simple – running through some final thoughts on hitting, then setting your feet on the path toward A) putting all of this into action, B) raking in money, and C) carving out a permanent spot for yourself at the top of the leaderboards…
____
The Least-Predictable Element in DFS
As we've said over and over again in these two courses: Hitting is the least-predictable element in all of DFS.
But as we also uncovered last lesson: Hitting is a lot more predictable than most people realize!
____
What We Can Know:
We can know where ownership is likeliest to go.
This is where I pause (as I do so often in video courses, and in written courses, and in articles, and on GrindersLive) to encourage you to study ownership percentages every day you play.
To read the rest of this lesson, you must purchase the course!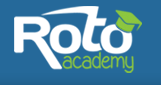 RotoAcademy offers one-of-a-kind, data-driven content to help you win.