Most Important Stats: Batting
Baseball is a sport ruled by statistics. Because the game is so binary—it's hitter versus pitcher and there are relatively few variables—the numbers are generally more trustworthy than in other sports. On the season-long level, we usually don't see too much deviation in stats; players tend to perform "as they should."
Our approach to playing daily fantasy sports should always be analytical, but baseball lends itself to a data-driven approach perhaps better than any other sport. Of course, some stats are better than others. What we're looking for in any stat is that it can help us make better predictions. When it comes down to it, that's all we need; if a stat can't lead to actionable insights, it's really of no use to us.
For example, look at batting average versus on-base percentage. For so long, MLB teams valued batting average and searched for players who could get hits. With the Sabermetrics revolution, however, teams began to realize that other stats, like on-base percentage, could better predict team wins. By focusing on certain stats that were undervalued by the market, teams acquired value on players, and ultimately more wins.
It's exactly the same for us; because we're working within the confines of a salary cap, we're looking not only for guys who will play well, but those who will play well at the cheapest possible price. That's a big difference, and it involves understanding which stats are predictive but not "priced in" to player salaries. If a stat is predictive and underutilized, it's going to be really valuable to us.
With that said, let's take a look at some of the most important hitting stats in daily fantasy baseball.
Weighted On-Base Average (wOBA)
Weighted On-Base Average is a catch-all statistic that values certain hits more than others (as opposed to batting average, which values them all equally). Slugging percentage values power, but not appropriately; wOBA values certain types of hits according to how much they actually matter to teams.
For us, wOBA is valuable because it's a pretty good proxy for overall offensive value. It might not be in tune with site scoring, but that doesn't matter; all we need is for it to be a good representation of how a player will hit in the future, and it is.
Here's a look at wOBA over the past six seasons for each position.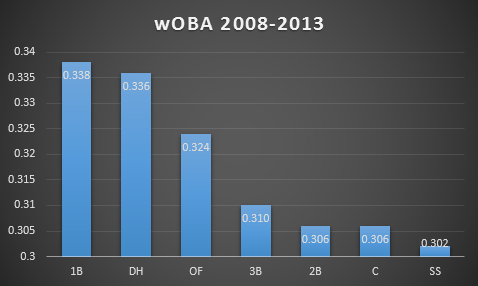 Each player is different, but this is a rough guide as to how each position performs over the long run. If a catcher has a wOBA of .330, that's outstanding and he's likely a scarce player at the position. If a first baseman has that same wOBA, he's actually a little below-average at his position.
BABIP
BABIP—batting average on balls in play—measures the percentage of ball's in that play go for hits. The league average is generally around .300, meaning that when a batter hits the ball into play, he usually has around a 30 percent chance to get a hit.
BABIP is an explanatory statistic that's also indirectly predictive. One reason that it is predictive is that it captures luck. For the most part, BABIP regressed toward .300 (it's a bit higher or lower for some players), which means that we should take notice when it's abnormally high or low.
If a player has a BABIP of .450 over his last 10 games, it's a sign that he's gotten really lucky; perhaps it was the location of his hits or poor defense, but no one will maintain a .450 BABIP over the long run.
So let's say we're comparing two hitters, one who has a .450 BABIP over his last 10 games and one with a .280 BABIP during that same stretch. If we're otherwise valuing the players equally, we should side with the one with the .280 BABIP, because it means he's just been unlucky of late. The player with the .450 BABIP is highly likely to regress in the near future.
BABIP is a good way to determine if a player will break out of a slump or continue a hot streak. When a hitter is lighting it up with a relatively normal BABIP, it's a sign that he's really performing well at the plate.
LD%, GB%, FB%
LD%, GB%, and FB% are the percentage of a hitter's batted balls that are line drives, ground balls, and fly balls, respectively. The rates are so important because there's a massive difference in how well they can create runs. Line drives create 1.26 runs per out, compared to 0.13 runs for fly balls and 0.05 runs for ground balls.
Here's the league average breakdown for batted balls.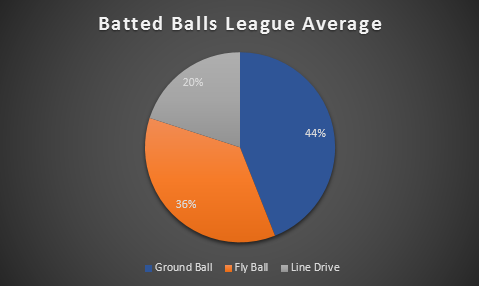 When a batter has a high LD%, it means he's hitting the ball well. When that high LD% isn't accompanied by a high wOBA, it means the player has been getting unlucky and is likely to hit better in the future. On the flip side, a high wOBA that's accompanied by a low LD% is perhaps sign that he's probably been getting a little lucky to get on base so much.
K%, HR%, and BB%
K%, HR%, and BB% are simply the percentage of plate appearances that result in strikeouts, home runs, and walks, respectively. You might think that K%, HR%, and BB% are explanatory rather than predictive, but they're actually three of the most consistent stats in baseball.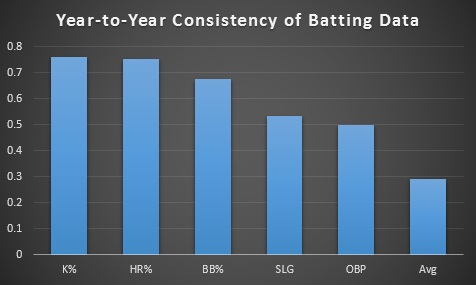 Certain daily fantasy sites don't penalize for hitter strikeouts, but home runs are of course valuable on all of them. Although they're a relatively low-frequency event, home runs are consistent—the same players tend to hit a lot of them—so it's okay to "pay" for home runs.
Compare the consistency of home runs to that of batting average; the correlation between batting average Year N and Year N+1 is around 2.5 times less than that between home runs.