My Approach to Building Teams
This is the pivotal lesson of this course.
I mean, I don't want you to stop reading after you finish this lesson because there is still some very important, supplemental information in the two lessons that remain. But this lesson is the "Big Kahuna Burger" of this entire course. This is where I tell you exactly how I go about building my MLB DFS teams.
You already know how I narrow down pitchers.
You already know how I select my pitchers.
You already know how I narrow down hitters.
What we still have remaining, however, is that most important task of all: filling out your roster with hitters who can get you in the money far more often than not.
By predicting pitching alone, you can be a profitable cash game player.
By predicting hitting, you can increase your cash rate in cash games and can flirt with some big GPP days.
By understanding how to combine these two elements with impeccable roster construction, you can turn DFS into far more than "just a fun hobby." You can start winning. Seriously winning. And really, that is what it's all about.
As I type this, I am probably the only person who takes this approach to roster construction. I'm not saying this is the only approach that works. I'm not saying this is the magic potion — the Felix Felicis, if you will (for all you Harry Potter fans out there). I'm not even saying this is some big secret that no one has ever thought of, or that this is some super-scientific approach I hatched in a secret underground lab (uh, the secret underground lab I don't really have. I promise). All I am saying is this is what works for me. And I'm pretty darn sure this will work for you.
Shall I get on with it already?
Okay. Here it is.
The approach I take to roster construction — after I have selected my pitchers and have narrowed down my hitters to my favorite plays at each position — is this:
To read the rest of this lesson, you must purchase the course!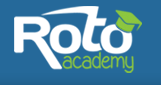 RotoAcademy offers one-of-a-kind, data-driven content to help you win.