NBA Qualifiers Strategy
Of all the league types in daily fantasy, qualifiers are perhaps played the most inefficiently. A qualifier is a league that awards entries into another tournament. Through qualifiers, you can win seats or tickets into larger tournaments without actually "buying in" to that league.
The primary upside of qualifiers is just that—upside. On an individual basis, each entry into a qualifier is low-risk (in terms of the entry amount), high-reward. Through qualifiers, you can legitimately turn a few bucks into $1 million.
The downside of qualifiers is that the probability of a positive outcome is low. Since the initial result of winning or placing in a qualifier is just another entry into a different tournament instead of cash, the long-term outlook is a low probability of cashing.
Single-Entry vs. Multi-Entry
Most qualifiers allow for multiple entries, so the first thing you'll need to do is figure out how many times you want to enter. With more entries comes greater risk, but more upside.
One of the most important aspects of figuring out if extra qualifier entries are worth it is determining what type of competition you'll be facing. In certain popular qualifiers, you can run into a high number of inexperienced players, dramatically increasing your chances of winning a ticket. For smaller qualifiers that aren't as hyped, though, the field often consists of mainly pros. Your chances of taking down a qualifier will shrink if half of the entries are from sharks.
Multi-Entry Strategy
If you decide to enter a qualifier multiple times, you have to figure out how much you want to diversify your lineups. Again, the key is determining how much risk you'd like to assume. If you enter three lineups into a qualifier, for example, you probably have a decent chance of cashing if you totally diversify with completely different players, but you also have little shot of seeing all three lineups win a ticket. In that way, you can hedge against the risk of multiple qualifier entries by simply seeking to maximize the probability of a positive outcome.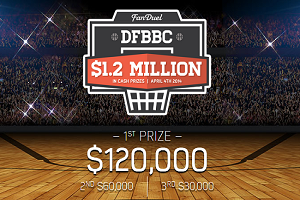 On the flip side, sticking with the same group of core players won't maximize your chances of a positive outcome since you could very well see all of them perform poorly. However, the degree to which you can maximize upside—the "damage" you can cause in the long run—is greatest if you don't diversify much. Actually, playing only your top values will provide the best long-term return, but hedging with some different players minimizes your downside so you don't lose a lot in a short period of time. It's a give and take.
One strategy employed by some daily fantasy pros is called using a "train" in qualifiers. A "train" consists of entering the same lineup a bunch of times, up to as many times as it could possibly win a ticket. In a qualifier that awards a ticket to the top 15 lineups, for example, one might use a "train" of the same exact lineup entered 15 times. If that lineup were to "win" the league, that player would win all 15 tickets. A "train" is obviously an ultra high-risk, high-reward strategy.
Understanding Expected Return
One of the reasons that qualifiers are misunderstood is that it's somewhat difficult to calculate the potential return since there's no cash involved with winning a ticket; you're basically just winning "equity" into a larger league, but that doesn't guarantee cashing in the short-term.
Thus, you can't treat a 1,000-man qualifier that awards 100 tickets the same as you'd approach a 1,000-man GPP that pays out the top 100 entries. There's a major difference: equity versus cash.
That difference results in a dramatic difference in risk. In the GPP, your chances of cashing—of actually seeing cash go into your account—are roughly 10 percent if you're an average player. Your chances of cashing in the qualifier, though, are much lower. You'll have around a 10 percent chance of winning a ticket into a larger league, but then you might have a similar chance of actually cashing in that league. Thus, the chances of cashing through this hypothetical qualifier are just one percent—one-in-10 multiplied by one-in-10. In that way, qualifiers are exponentially riskier than GPPs, which are already relatively high-risk.
Due to how qualifiers are structured, it's important to always check the payout structure of the league into which you could win a ticket. Your "true" cashing probability is the odds of winning a ticket multiplied by the odds of cashing with that ticket.
Since qualifiers are so high-risk, you can't place a high percentage of your bankroll into them—not even as much as you'd enter into GPPs. If you feel comfortable entering three percent of your bankroll into a GPP that cashes the top 20 percent of lineups, for example, you should enter just one-fifth of that into a qualifier that awards tickets to 20 percent of entrants and then subsequently pays out 20 percent of entrants into the larger league. Your chances of cashing in the GPP would be 20 percent, while the odds of cashing in the qualifier would be four percent (one-in-25).
That's about a best-case scenario for a qualifier, and it would result in a max of 0.6 percent of your bankroll placed on a single lineup in a qualifier—3.0 percent multiplied by the 20 percent (0.2) chance of cashing. If you have a $1,000 bankroll, 0.6 percent represents only $6.
The overarching point is that qualifiers offer a very high ceiling on your potential return, but placing too much of your bankroll into them is a quick way to go bankrupt.