Opportunity
"Talent, matchup, opportunity, price." If you follow me around the DFS world long enough, you'll probably get sick of hearing me talk about these four elements. There is a reason why I focus so heavily on these four elements, though.
Can you guess what that reason is?
No, wait — don't guess. (Why am I making you guess? What is this, kindergarten?) The reason I focus so heavily on these four elements is because they absolutely work!
Once you understand the things you should be looking for in terms of talent, matchup, opportunity, and price at each specific position — and once you begin looking for these things and begin properly weighing that blend of "talent, matchup, opportunity, and price" — DFS will suddenly become a much easier game.
And here's the great thing about "opportunity" for pass catchers: it is the element that requires the least amount of "feel."
Now, does it take a bit of work to gather the information you need to have in order to properly evaluate "opportunity"? Absolutely. This is, in fact, another reason why I used that first lesson to drill into you the fact that "time" is a necessary element in order to consistently and successfully select pass catchers in daily fantasy football. Heck, even if you have a Pro Football Focus subscription, there is really no simple, single place where you can find the pass catcher "opportunity" data that will best equip you to make picks.
Honestly? This isn't such a bad thing at all. Honestly, the fact that it's sort of difficult to gather all this information helps us, as it means that most of our competition is not taking the time to gather this information themselves. Honestly — we don't mind this one bit!
That is, as long as we have time…
To read the rest of this lesson, you must purchase the course!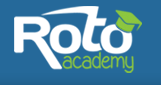 RotoAcademy offers one-of-a-kind, data-driven content to help you win.