Opportunity
"Minutes equal opportunity."
You are going to hear and read this all the time as you work to learn NBA DFS and as you look for the ways in which you can gain an edge on your competition throughout the NBA season.
Minutes equal opportunity.
And sure, this is true. They do. But as you may have guessed (or…heck, maybe you didn't guess – I sure didn't, and I have talked to a lot of others who also made the mistake I made in this area when first making the jump to NBA…), it is not quite as simple as that simple statement makes things sound.
Minutes are the most important thing to pay attention to in NBA. You want the guy who is going to play 32 to 36 minutes over the guy who is going to play 18 to 20. That's obvious, right? – but here's why I bothered to say it anyway:
To read the rest of this lesson, you must purchase the course!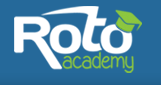 RotoAcademy offers one-of-a-kind, data-driven content to help you win.