Putting it All Together
I could use this lesson to simply say, "Goodbye. It was fun. Now go out there and profit!"
After all, I have covered everything I needed to cover, and you now know everything you need to know for constructing winning daily fantasy football lineups.
There are a few things I want to say, however, before I send you on your way.
I won't take up much of your time — I promise.
Really, I just want to say this:
To read the rest of this lesson, you must purchase the course!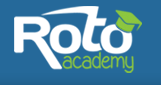 RotoAcademy offers one-of-a-kind, data-driven content to help you win.