Putting It All Together
There is a reason why "achieving a high level of success in daily fantasy sports" is not something everyone is able to do. There is a reason why there are more unprofitable players than profitable players — and why there are very few truly profitable players (guys who achieve a high level of profit and can count on achieving this high level on a consistent basis).
What is that reason?
Frankly, it's the simple fact that daily fantasy sports is not "easy."
In order to achieve success in DFS, there are many elements you must be able to bring together — from an understanding of the sport itself to an understanding of how to pick the best players at each position to an understanding of the nuances of roster construction.
The good news for you, of course, is that you already have all the foundational roster construction knowledge you need, and you already know everything you need to know in order to assess and select quarterbacks, running backs, and pass catchers in daily fantasy football!
At least…you already have those things if you have read my RotoAcademy courses. I am guessing that you have.
Now — if we assume that everything I say in my courses is said for a reason (hint: it is) — we have to question why I mentioned the fact that daily fantasy sports is not "easy."
Why did I bring this up?
To read the rest of this lesson, you must purchase the course!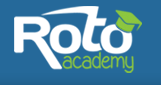 RotoAcademy offers one-of-a-kind, data-driven content to help you win.