Putting It All Together
Start small.
Seriously. That's my main "in closing" piece of advice. What's the rush? Why do you need to jump up buy-in levels in NBA so quickly?
Start small, and work as hard as you would if you were playing for a large percentage of your bankroll. Study top lineups each night to get an idea of what these guys were thinking, and of why they made the decisions they made. Read everything you can – keeping up with the NBA closely, and getting to know the players and the teams. Track your success, and pay attention to what works and what doesn't. Try different things. Be as fundamentally sound as you can be!
To read the rest of this lesson, you must purchase the course!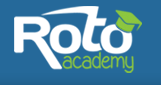 RotoAcademy offers one-of-a-kind, data-driven content to help you win.