Similarities Between Season Long and Daily Fantasy
As daily fantasy leagues explode in popularity we're noticing a lot of new players asking about the differences between daily fantasy and the season-long variety. There are undoubtedly some key differences, but the basic tenants of fantasy sports management – opportunity cost, consistency, game theory, and risk/reward still act as the governing principles in creating a successful team.
Opportunity Cost
Whether you're participating in season-long or daily leagues, Jimmy Graham is an outlier at the tight end position. He's so scarce that many owners drafted him in the first round of season long leagues. On FanDuel, Graham is often priced 20% higher than every other tight end.
But what's the cost associated with drafting Graham? In season-long leagues, you potentially lose a first-round pick—and the opportunity to draft a player at a position much thinner than tight end. The same idea is true in daily leagues; there's a cost to adding every player that goes beyond his salary, and that's the opportunity to add other players.
In that way, we should be thinking of players not in terms of what we gain by acquiring them, but rather what we lose. That basic idea is one of the cornerstones of fantasy sports, no matter the style.
Consistency
Imagine you're in a fantasy league in which you know the top kicker will outscore every other kicker by 100 points. Are you justified in using an early-round pick to secure the No. 1-rated player at the position (or, in the case of daily fantasy, paying for the highest-priced kicker)?
The answer is no; even though the theoretical 100-point kicker is scarce, we don't know which kicker it will be. In season-long leagues, there's zero year-to-year consistency among kickers. And all of the points in the world don't matter if we can't accurately project future performance. Without consistency, there's no predictability, and thus no value.
In daily fantasy, that consistency is just as important, albeit on a smaller scale. The range of expected points at a specific position is meaningless without some understanding of consistency. If a particular position possesses no week-to-week consistency, it doesn't matter if it produces an outlier each week. The value of that scarcity disappears if we can't predict it.
Game Theory
I like to pick near the end of rounds in fantasy drafts because I think it offers an advantage over drafting in the middle. Namely, you can predict the picks that will be made between your own, allowing you to more consistently select optimal players. For example, if you draft 11th in a 12-team league and you're deciding between a wide receiver and a running back in the third round, your choice should be governed by what the owner drafting 12th did in the first two rounds. If he chose two running backs, for example, you should probably draft the wide receiver first, even if he's not rated as high on your board, because there's a better chance that the running back you covet will make it to you in the fourth round.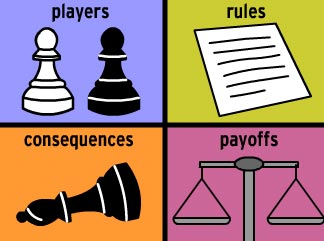 Daily fantasy is filled with even more elements of game theory. Not only is it valuable to use your opponents' beliefs and actions to your advantage, but it's crucial. That extends from "buying low" on underachieving studs because their price has dropped and they won't be on a lot of teams to entering a lot of Thursday leagues because they're filled with bad money in the form of anxious owners who want to see their players on national television.
In many ways, the beliefs of your opponents are more important than your own. There's so much value in implementing a contrarian approach to fantasy sports, whether you're in season-long or daily leagues. Your goal shouldn't be to employ a specific strategy at all costs, but rather the one that creates the greatest net effect after your opponents' actions are taken into consideration. In season-long fantasy, that might mean bypassing your highest-rated player because you know he'll drop in the draft, while in daily fantasy, it might mean skipping over an elite value because you know he'll be in most lineups (thus decreasing the number of meaningful players in each lineup and increasing the inherent variance involved in the outcome).
Risk/Reward
When it comes down to it, both season-long and daily fantasy leagues are about managing risk and reward. Everything you do comes down to how much it maximizes upside and inhibits downside. In certain season-long leagues, such as DraftMasters in which your top-scoring players from each week are automatically plugged in as starters, you should utilize a high-variance approach in an effort to maximize the ceiling of each player. You might use a similar strategy in daily fantasy tournaments, overlooking safety in favor of upside. There are all sorts of similar decisions that need to be made in all forms of fantasy sports, the most ideal of which are those that maximize your ceiling and minimize your floor.
Season-Long Projections
Finally, it's important to note that a lot of the research you do for traditional fantasy sports can be applied to daily leagues, particularly in the beginning of the year. Astute daily owners will fill their early-season lineups with many of the same players coveted by season-long owners in an effort to acquire value before price inflation. Whether you're playing in season-long or daily leagues, your goal is to predict breakouts before they occur so that you don't need to pay a premium to generate production. Your season-long projections are a tool that can help accomplish that task, even in daily leagues.
Next Lesson – NFL > UnderGrad > Getting Started >
Differences Between Season Long and Daily