Stacking Early or Late Tee Times Based on Weather
If you've ever played fantasy sports (if you hadn't, then you probably wouldn't be reading this), then you know the impact weather can have on an outdoor sporting event. Just like fantasy football and baseball, weather can play a huge role in daily fantasy golf as well.
The difference in golf is that every golfer in the field is playing the same golf course, so it's a matter of timing rather than the location of the bad weather. Stacking either the early or late tee times to avoid bad weather can give you a huge leg up on the field.
To read the rest of this lesson, you must purchase the course!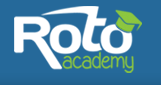 RotoAcademy offers one-of-a-kind, data-driven content to help you win.