Talent
In any sport, the players with the most talent will always perform better over the long run than other players. As a result, in fantasy sports, the players with the most talent will always be the players most worth having on your roster.
Unlike season-long fantasy, however, we are required in daily fantasy to fit players onto our team within the parameters of a salary cap, and this means that "the most talented players" will usually be "the most expensive players" as well. It is because of this that balancing talent with matchup, opportunity, and price becomes so tremendously important. In fact, "talent" is typically going to be the least important component of the bunch.
My goal, in any sport, is to always have a general understanding of how talented different players are. In baseball, talent is extraordinarily important, as all players in a lineup, for example, will have pretty much the same "opportunity" (four or five at-bats) as one another; "talent" in baseball, thankfully, is pretty easily quantifiable through a variety of statistical and "advanced statistics" measures. In football, "talent" is important in that the chances for "huge plays" are heightened with more talented players; "talent" is a bit more difficult to assess in football in a numbers-based manner, but sites such as Pro Football Focus help us have a pretty good idea of the talent level of each individual player.
To read the rest of this lesson, you must purchase the course!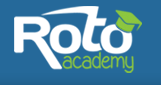 RotoAcademy offers one-of-a-kind, data-driven content to help you win.