The Last Thing You Need to Know
Okay, I lied. We're not quite to "Talent" just yet.
Once again: if you've read another course of mine in the series of "picking QB/RB/WR/TE," you can skip this lesson, as you've read it already.
If this is the first lesson you are reading in picking players for a particular position, however, hang with me for one final pit stop!
To read the rest of this lesson, you must purchase the course!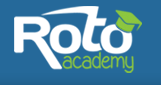 RotoAcademy offers one-of-a-kind, data-driven content to help you win.