Tracking Exposure
One of the toughest things to do when creating a ton of different lineups is to get the desired amount of exposure to each player. There are a number of different ways that you can track your exposure, but I'm going to explain the method that works best for me. I have created a spreadsheet that will help you track your exposure (which is included in this course) and this lesson will walk you through how to use it.
Almost all of the emphasis in tournament play is on ownership levels. While deciding how much exposure you want to have to each player should be our primary concern, being able to track your exposure is nearly as important. The spreadsheet that I have provided allows you to track your exposure and it will allow you to get a good idea if that exposure is going to work, given the salary cap restraints.
Before we get into the specifics, let me quickly walk you through the process on how to update the spreadsheet each week. The field and salaries are going to change, so it takes a few minutes to update it each week. The steps are listed below:
To read the rest of this lesson, you must purchase the course!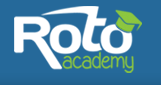 RotoAcademy offers one-of-a-kind, data-driven content to help you win.