Tracking Your Bankroll History
Welcome to my third lesson on bankroll management here for RotoAcademy! So far, we have discussed how to define your bankroll and how to incorporate your bankroll with game selection process. Once you have done this, there is yet another key element – tracking the progress of your bankroll and monitoring your game results. When you are still dealing with a small sample size, this isn't overly difficult. However, when you start to add differing game types, multiple sites, and other factors, some automation is definitely in store. There are two methods I use to track my results, and I will discuss them both in this lesson.
To read the rest of this lesson, you must purchase the course!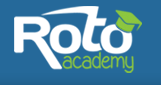 RotoAcademy offers one-of-a-kind, data-driven content to help you win.