Understanding Player Exposure
"How many lineups do you play each day?"
We see that question tossed around quite a bit in the RotoGrinders forums, don't we? It's a worthwhile inquiry, but sometimes we get a little too obsessed over lineups, forgetting that the most important thing is selecting player combinations in a manner that limits risk and/or promotes upside as much as possible.
Player Exposure
Let's say you're playing on a site that requires two pitchers and eight hitters and you want to play two different lineups. How many different players are you going to use? Well, you could use as many as 20 players, but you could also roster as few as 11.
In the latter scenario, your two lineups would have the same group of core players—nine players the same—with just a single player different in each. In terms of risk/reward, such a lineup combination is dramatically different from playing two completely different lineups.
The former lineup combination—two with just a single player (or two) different—isn't much different from playing just one "optimal" lineup. It's a smart move if you're undecided between two players or just want to diversify a bit while maintaining upside.
Meanwhile, two completely different lineups—or two lineups with just a couple players the same—is a high-floor/low-ceiling play. You're less likely to see a rapid bankroll decline, but you're also unlikely to witness quick growth.
The point here is that what we should be worried about isn't the number of lineups, but the total exposure to each player. If I play three different lineups but Joey Votto is in each one, my exposure to Votto and the effect he'll have on my profitability is the same as if I played just a single lineup with him in it. Most daily fantasy pros will tell you that you typically don't want exposure to a huge number of players because some of them will necessarily be sub-optimal plays, cutting into your profitability.
Let me help you visualize this. First, we'll start with two lineups that are very similar.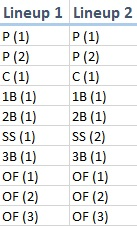 Here, we're playing only 11 players, with just the shortstop different among the two lineups. In terms of risk/reward, this is barely different than playing a single optimal lineup. Here's the breakdown of the player exposure.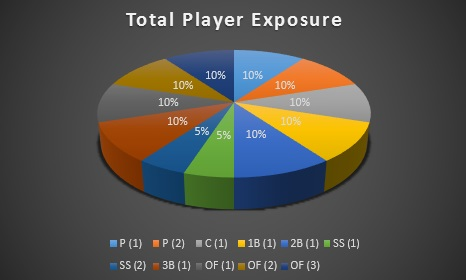 Every player except for the shortstops is responsible for 10 percent of our total player usage, with the shortstops each taking up five percent. Despite playing two different lineups, the diversification is minimal.
Compare that to this combination of lineups.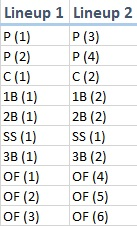 Here, only the shortstops are the same, meaning we have exposure to 19 different players.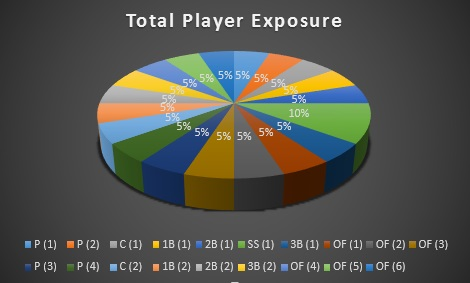 That results in a drastically different pie chart. Our fortunes are tied to 19 different players, 18 of whom make up five percent of our total player usage apiece, and one of whom (the shortstop) is responsible for 10 percent.
This combination of lineups is akin to a diversified stock portfolio; it might be safer, but there's also a lot less upside and the average quality of the stocks, or players, is lower.
Dollar Signs
Breaking down player exposure in terms of percentages is only the first piece of the puzzle, because what we're really after is how each player will affect our potential profitability. If we're going to sink the same amount of entry fees into each lineup, we can use the percentages above.
But sometimes we might want to put more money on one lineup. When that happens, we need to account for the buy-ins. To determine how much money we have riding on each player, I created this formula:
Player Exposure (Total Lineups)/Total Starting Spots in Those Lineups * Buy-Ins
We're calculating "true" exposure in terms of dollar signs by counting the total appearances of a single player in all of our lineups, dividing it by the total number of starting spots in the lineups in which the player is located, then multiplying by the total buy-in amounts for the lineups in which that player is in.
Let's use the first example from above in which the shortstop is the only difference between our two lineups, assuming we're wagering $100 on the first lineup and $50 on the second.
The total money on every player except for the two shortstops would be (2/20) * $150, or $15. With $150 in play, each of the nine players who are in both lineups is effectively accounting for $15.
The total money on the first shortstop would be (1/10) * $100, or $10. The total money on the second shortstop would be (1/10) * $50, or $5. Thus, by spending only half of the money on the second lineup as the first, the shortstop in the second lineup—the player to whom we have the least true exposure—is responsible for just one-third of the total money as the non-shortstops.
Diversification Based on League Type
You don't necessarily need to calculate the exact dollar figure on each player every night, but it's still important to understand how
1) Lineup diversification
2) Money placed on each lineup affects your risk/reward and bottom line
Another thing to keep in mind is that true player exposure will change based on the leagues you enter. Most daily fantasy players naturally diversify more in tournaments than in smaller leagues, which is smart. But the downside to using a player in a tournament is also minimal because, if you're employing proper bankroll management, you should be spending far less money on GPPs and other large-field events than you do in head-to-heads and 50/50s.
That's why accounting for the total dollars on each player is important when using different lineups. You might have a total buy-in amount of, say, $500 on your heads-up lineup in a given day, but only $10 on a GPP lineup. Should we really treat the players in the GPP lineup the same as the head-to-head in terms of assessing risk and reward? Of course not. We might have the same exposure to them in terms of their occurrences in our lineups, but certainly not in terms of the effect they'll have on our profitability.
Again, implementing shrewd bankroll management—no more than 5-10 percent of your bankroll in head-to-head and 50/50 leagues and no more than one percent in tournaments, for example—will naturally help you manage risk/reward and properly assess your true exposure to each player.