Using RotoGrinders Projections
If you can accurately project players on a week-to-week basis, you can be a profitable daily fantasy player. If you can't, you won't. At the end of the day, that's really what it comes down to—making accurate projections—it's just that simple.
RotoGrinders works tirelessly to provide you with the most accurate projections. When you sign up for our Incentives program, you'll get access to a variety of different tools, including site-specific projections and values. You can buy Incentives access directly from us, or you can get it for free simply by signing up for one of the major daily sites—DraftStreet, FanDuel, DraftKings, DraftDay, FantasyFeud, FanThrowdown, or StarStreet.
Using the Projections
When you check out the RotoGrinders projections—posted by Wednesday morning during football season—you'll see players sorted by position, their opponent, their site-specific salary, a site-specific point projection, and a final "$/point" figure that helps you determine each player's value relative to his salary.
Now here's the coolest aspect of the projections: they're customizable. You can edit the projected points based on your own research, which is vital. The guys at RotoGrinders do an awesome job of helping you win your leagues, but your lineups should truly be your own. You should alter the player projections as you see fit, using the initial RotoGrinders projections as a guide.
Once your projections are set, you need to analyze players based on dollars per point. RotoGrinders uses each site's salary data to calculate value on a per-dollar basis. There are also specific tabs to view the best values at each position.
How to Optimize Lineups
When you're using the projections to create your lineups, your initial focus should be on the dollars per point totals. Your goal is always to find value, so those calculations are really important. In most cases, you'll want to start the players with the most value.
But not always. It's important to remember that your goal isn't to maximize value at all costs, but rather to maximize projected points. Value doesn't win leagues. The dollar per point calculations are invaluable as a tool through which you can optimize your lineups, but they have no actual value in and of themselves.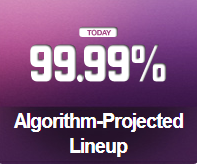 Many times, your best values will be low-priced players. If you filled your lineup to maximize value, you'd likely leave a hefty portion of your salary cap on the table. Thus, sometimes it's best to bypass value in favor of projected points.
That's where the RotoGrinders Algorithm-Projected Lineup tool can come in handy. The tool uses the dollar per point calculations to determine the optimal lineup for you in terms of projected points. Again, value is just the tool through which you can acquire a max-projected lineup.
Using Other Tools
In addition to projections, Incentives members also receive expert site-specific picks, "Bargain Bin Ballers," and a player comparison tool. You can and should use these tools to help you create optimal lineups, but the majority of your time should still be spent refining the projections and assessing value.
After you've made your projections, you can take a look at the tools to help you optimize lineups. Maybe you skipped over a low-priced value listed in the "Bargain Bin Ballers" that could help you optimize your projected points by allowing for more freedom at other spots. Maybe you're undecided on a player and an expert opinion can help quell your concerns. Either way, use the projections as the foundation of your lineup creation and the other tools as a supplement, leaving no stone unturned.
Next Lesson – NFL > PHD > Projections and Value >
Building Your Own Projections