Using Your Cap Space in Daily Fantasy Baseball
One of the most common questions I see in the RotoGrinders forum is how much money is okay to leave on the table in daily fantasy sports. It's a question that's perhaps not as straightforward as it seems, but my personal stance on the issue is the same (or close to it) for every sport: you should normally use all or close to all of the salary cap.
To understand this position, let's start with why some people leave money on the table. The primary reason you'd leave salary cap space remaining is because you can create your optimal lineup without using the entire cap. The problem is that, even if one "true" optimal lineup exists, our chances of identifying it are very small. We can only work with the information we have on hand, which we know is imperfect.
To give you an idea of how difficult it is to identify a single optimal lineup, consider that using a program like Excel Solver to optimize based on your projections can give you literally thousands of player combinations all projected within one point of one another. For the lineup we choose to be optimal, we have to 1) identify the best of those and 2) have flawless projections to even get to that point.
There's also an underlying assumption that, for an optimal lineup to be one that doesn't come close to filling the entire salary cap, the site salaries need to be way, way off. The daily fantasy sites aren't perfect in their pricing, but they aren't off in such a way that not utilizing the entire cap makes sense.
For example, let's assume you have $4,000 left to spend on a second baseman, but your projections tell you that the best second baseman costs just $2,000. To leave that $2k on the table, you'd need to assume that not only is there no better second baseman between $2,000 and $4,000, but also that there's not potential upgrade anywhere else in your lineup on which you could use the extra cash. That's a huge assumption.
Ultimately, leaving a hefty amount of salary cap space is a fragile strategy because it requires your projections to be incredibly accurate—a level of accuracy that's simply unattainable. Projections and values can be of use, but you shouldn't put so much weight in them that you become blind to your own fallibility.
What Percentage Is Normally Okay?
It's not as if you need to reconfigure players to always fill up the entire cap, however. Leaving a small percentage is certainly acceptable, even on a regular basis, but once you start getting much below 99 percent cap usage, you need to really consider the fact that you could just be wrong with your projections, values, and lineup construction.
If you're playing MLB on DraftKings, one percent of their $50,000 cap is just $500. Ideally, you'd like to pick all optimal values and have no money left on the table. The more money you leave unused, the more confident you need to be that your projections are accurate. Once you reach a certain point, the level of accuracy required to believe that you truly have an optimal lineup with 1+ percent of salary cap space unused is simply too great to take on.
Basically, we're trying to create what Warren Buffett calls a "margin of safety" such that we're not leaving salary cap space untouched due to a fragile belief (namely that our projections and values are a completely accurate reflection of reality).
When to Leave More Money on the Table
There are two times when I think it's acceptable to leave more than one percent of your salary cap on the table. The first is during short slates, primetime games, and other leagues with an artificially small player pool.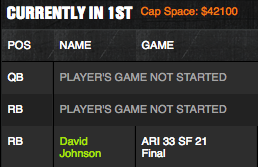 In the hypothetical example of picking a second baseman who left you $2,000 under the cap, there were numerous other players across positions that made it such that the decision was a poor one. When the player pool is greatly reduced, though, the majority of those options disappear. Thus, the probability of creating a "true" optimal lineup that utilizes less than 99 percent of the cap is much higher.
The second time to leave money on the table is when you want to be contrarian in tournaments. This can be somewhat shaky ground because you can be usually be contrarian while still using nearly all of the salary cap. If you have $500 left in NFL, for example, you can easily just use that extra money to be contrarian on a kicker or defense without downgrading at other spots.
The best time to be contrarian is during short slates. The higher you expect player utilization to be, the more value there is in fielding a unique lineup (and perhaps bypassing optimal players to do so). When it comes down to it, leagues with only a few games are really the place to leave money on the table if you're going to do it. First, you can do so without necessarily being miles off from the optimal lineup, and second, there's so much value in going against the grain in such leagues.