Vegas Odds and Line Movement
Vegas lines and odds are one of the best tools in all of daily fantasy sports. Most DFS pros follow the Vegas lines and odds religiously, and for good reason.
Vegas is responsible for setting the lines for millions and millions of dollars of bets that come in each day. Their main goal is to create a line or a set of odds that most accurately reflects what is expected to happen at a sporting event. That will create even betting over the course of the long run, which then allows the sportsbooks to profit off of the vigorish. Their need to set accurate lines gives us a great tool to use in daily fantasy sports.
Vegas odds are just as important in daily fantasy golf as they are in any other sport. Vegas needs to set accurate odds each week, or the golf bettors will fully take advantage of any bad odds that are set. Basically, once we know that we can trust the oddsmakers, we can let them do a lot of the legwork for us.
Vegas is going to factor in a lot of the same things that we are looking for, yet they sum it up nicely in one little number known as the odds to win. The odds shouldn't be the end-all, be-all, but they are a great tool to use in your weekly research. And guess what? They are FREE!
To read the rest of this lesson, you must purchase the course!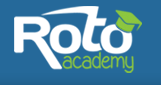 RotoAcademy offers one-of-a-kind, data-driven content to help you win.