What is Usage Rate?
Usage rate or usage percentage is an estimate of the percentage of team plays used by a player while he was on the floor. In layman's terms, it is the number of plays used by a specific player. What does "used" mean in that statement? Well last season "(player-popup)Russell Westbrook":/players/russell-westbrook-1083's usage rate sat at 38.4 percent meaning 38.4 percent of plays ended with Westbrook either shooting the ball, turning the ball over or getting to the free-throw line. It's a measure of the percentage of the plays a player is involved in the offense which is very important from a daily fantasy basketball standpoint.
Why is this important? Scoring points directly correlates with scoring fantasy points. The more opportunities a player is given to score, the better chance they have of scoring. At the very least, if a player averages 20.0 points per game in reality, it means they should average 20.0 fantasy points per game on Draftkings because each point is worth one fantasy point (without accounting for turnovers). In essence, the ability to score provides a stable floor to players as they can have an off-night in the rebounding, steals and blocks department yet still produce an adequate outing.
How do you determine what an adequate usage rating is? League-wide usage rate from the 2014-15 season is depicted in the following chart:
The statistics are based off of all players that played at least 1,000 total minutes to eliminate outliers due to small sample size. Russell Westbrook and Andre Roberson led the league and finished dead last respectively in usage rate. Then top 10 overall conveys the percentage (29.1) it took to finish inside the top 10 in the statistic, top 10% shows the cut-off to finish inside the top 10%, etc. NBA situations change rapidly approaching game time, so when a player emerges whom you are not familiar with, check out their statistics and refer to the table above as a guide. A great resource for usage rates is checking out basketball-reference.com and searching for player's name like such: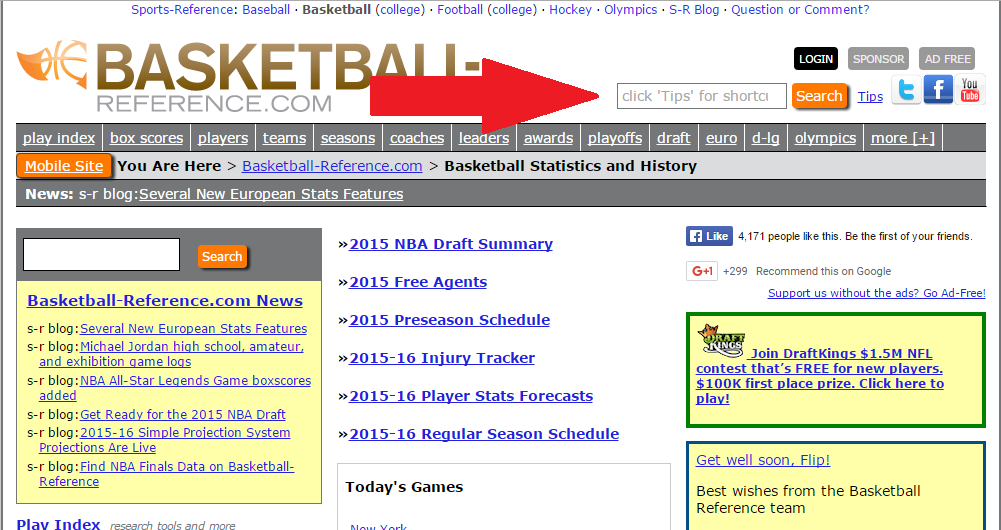 Using the usage rate chart above as a guide, you will be able to quickly quantify where a player who suddenly emerges into a starting lineup ranks. Are they average, above average, below average, etc. When a team's lineup is not revealed until 6:55pm EST and you legitimately only have five minutes to think, that should prove to be a nice little tool.