Where to Pay Down
This lesson takes an in-depth look at one of the most difficult aspects of "balancing salary": where to pay down. By understanding where (and why) you should be saving salary, it will become far easier for you to fit in the high-priced players you want to fit in while still gaining positive production across the board.
To read the rest of this lesson, you must purchase the course!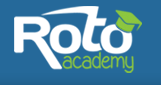 RotoAcademy offers one-of-a-kind, data-driven content to help you win.