Where to Start
The reason it is so important to understand — and avoid — that second mistake discussed in the last lesson (focusing too heavily on points-per-dollar) is because this approach will often lead to an entire team of mid-priced players.
More often than not, mid-priced players will be the guys likeliest to hit the points-per-dollar multiplier you are targeting!
You might be wondering why that's a bad thing.
You're in luck! Because I am going to tell you.
As you pay attention to player pricing, you will start to discover that the higher-priced players are not priced at a higher level because they necessarily have a higher floor than the mid-priced guys, but instead, these higher-priced guys are usually priced where they are because they have a substantially higher ceiling than the mid-priced guys!
"You're saying these high-priced guys have a lower points-per-dollar floor, right? That's not good, is it?"
In a fundamental sense, no. That's not good.
But this is where understanding "Where to start" becomes so tremendously valuable.
To read the rest of this lesson, you must purchase the course!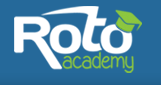 RotoAcademy offers one-of-a-kind, data-driven content to help you win.