Who Stands to Benefit from Injuries?
The best way to find value in the NBA is to take advantage of the fact that the season is plagued with injuries. I always like to build my lineups from the bottom up. When there is an injury to a player and we can reasonably expect his back up to see a sizable boost in minutes and usage, we want to lock that player into our lineup first.
This may seem like a backward approach, as most people that play daily fantasy tend to lock in the star player with the best matchup first. While I'm certainly not telling you to fade the superstars, you want to lock in the best values first and foremost. The reasoning is simple. We want as much exposure to players that can outperform their salaries as we can. And, when we get down to the final one or two roster spots, I would rather have more money to spend than less money to spend. We live with "having" to play LeBron James, but we shouldn't force a cheap player into our lineup that doesn't carry very much value.
Now, how does that help us build lineups?
To read the rest of this lesson, you must purchase the course!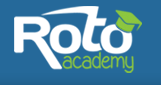 RotoAcademy offers one-of-a-kind, data-driven content to help you win.