Wide Receivers
"Never half-ass two things. Whole-ass one thing."
-Ron Swanson, Parks & Recreation
In other words, anything worth doing is worth doing right.
Wide receivers are an inconsistent bunch. They gripe about not getting thrown to enough, but I suppose I would, too, when even the top wideouts are only seeing around ten throws their way per game. While we generally know what we can expect from the top tier receivers like Antonio Brown, Dez Bryant, and Demaryius Thomas, the position as a whole is volatile week to week. Receivers are not nearly as consistent as quarterbacks or running backs because they don't have the same number of opportunities to succeed.
To read the rest of this lesson, you must purchase the course!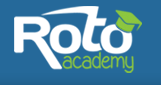 RotoAcademy offers one-of-a-kind, data-driven content to help you win.