A Heater Like No Other: TwoGun Interview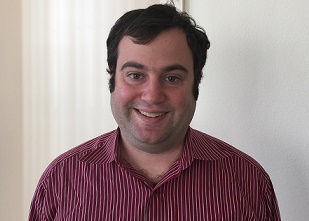 If you play DFS, you know just how difficult it can be to win a large-entry GPP.
Well, not only did Michael "TwoGun" Cohen (@TwoGunFF) win the DraftKings $2 Million Touchdown event in Week 17 this past football season (for a $500K payday), he then went on to ship one of the many Millionaire Makers in the divisional round of the NFL playoffs soon after. Not a bad haul in a matter of weeks, right?
Because of that crazy heater, TwoGun sky-rocketed up the Tournament Player of the Year standings, finishing second behind McJester. He's already off to a great start in 2015 as well, as he can currently be found in eighth place in the TPOY race.
We caught up with the GPP master himself to get his thoughts on a number of matters.
First, let's get into a little background. How did you first get into DFS? What interested you most?
A good friend of mine, Cory Albertson (you may know him as rayofhope in the DFS world), actually introduced me to daily fantasy sports back in 2011. It was during football season then, and he mentioned how it was a burgeoning new industry. He was blogging for DraftDay at the time, so that was the first site I naturally checked out. I enjoyed playing, but I didn't really get that into it until the next football season.
By the 2012 football season, I started playing more, mainly still on DraftDay as well as DraftKings. I also started working at SportsTradex in late 2012. That kept me involved in the industry year-round, so I wouldn't just basically tune out until the next football season anymore.
In terms of my playing volume, I really started to up it around the summer of 2013. I had a few large baseball wins, which grew my confidence in my DFS skills. When football season came around, there was a lot of great overlay opportunities pretty much throughout the entire 2013 season. I felt that I was at least as good as an average player, so if there was some overlay, then playing in those events was definitely +EV.
I played a lot on a variety of sites, but I really concentrated a lot of my volume on DraftKings and FanThrowDown that season. I ended up with $30,000 of entries into the FanThrowDown big Week 16 event, and I ended up winning it, taking home $100K. After that, I pretty much just kept playing at a high volume.
Was it a quick learning process? What tools and resources did you use to improve at first?
The more I played, the quicker I learned. I used a variety of third party projection sites at first. Some were decent, though some I now laugh at the thought that I took them so seriously.
I also read RotoGrinders quite a bit, and the insights have been very helpful. Learning about roster construction for GPPs vs. cash games and going contrarian were extremely helpful and not ideas I just happened to stumble upon by myself.
Was there a certain time when things "clicked" and you started to see a marked improvement in your results? Can you pinpoint any details that made the difference?
I think by the end of 2013, I definitely was more 'in the zone.' It's hard to pinpoint the details but I felt like by then I had a better grasp on what I needed to do to be a winning player.
What's your favorite DFS sport, and why?
NFL by a mile. It's by far the most entertaining sport in my opinion. There's absolutely nothing better than watching nearly 10 hours of football on a Sunday, whereas the thought of watching 10 hours of baseball in a day makes me just want to take a nap.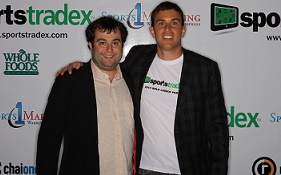 The uniqueness of each position you can draft in NFL adds so much to it as well. In baseball, you have two types of players (hitters/pitchers). In basketball, all player are pretty much the same. Sure, in NBA centers get more rebounds/blocks compared to point guards who get more assists. It's more enjoyable when you four positions that have such differing fantasy points per touch and such differing degrees of variance.
I also like how the flex spot gives you the option of loading up one position vs. the other in any given week. It's one of the reasons we designed the game at SportsTradex to basically be all flex spots, to give people the option to focus on WR, QB, or RB depending on the value that was available that week and how much variance a person wants to take on.
When it comes down to it, I think NFL is by far the most profitable sport as well. While there's lot of variance in any sport, I feel that you can gain a larger edge with less variance in NFL compared to NBA/MLB. This of course is largely a result of that a lot of recreational players compete in NFL, whereas most MLB/NBA DFS players tend to be pretty hardcore.
That plus winning a couple million at the sport makes me love NFL.
Do you play any cash games or are you strictly a GPP player? What benefits of GPP-only (if so) do you appreciate most?
I do play cash games but GPPs are my main focus. The ROI is so much higher in GPPs.
In a GPP, you have all sorts of contrarian strategies to consider that just don't matter in cash games. Plus, you have the chance to win life-changing money which you don't in cash games.
Without giving away the "secret sauce", what factors do you take into consideration most when constructing lineups?
I make sure to stack appropriate to the sport and the contest type. For example, I pretty much always pair a WR (or two) with a quarterback in an NFL GPP. However, when playing an NFL cash game, I often won't pair my QB with a WR.
I also like to actively think about if there are any contrarian plays I really like that day. If there are, I'll try to incorporate them in a lot of my lineups. If there are plays I know will be very popular and I'm on the fence about them, I'll decide beforehand if I want to 100% fade them (which I commonly will do in NBA) or if I want to have some exposure to them as a hedge (more common in NFL).
Talk about your crazy heater during the NFL season which saw you net millions in winnings in a matter of weeks. How in the zone were you?
It was just nuts. Starting in late September, I just started on a massive heater. I had a big Week 3. Then October went great. Then when NBA started in November, I went on a massive heater at NBA as well.
Before Week 17, I was really happy with how my year went, especially how the last three months had gone. I felt like I was very good at identifying good public fades, as well as finding gems in GPPs. I thought my ROI was actually really high, and I was due for some sort of bad streak soon since I had been so lucky lately.
Then the big boom happened. In Week 17, I was overweight Arian Foster (he was in roughly 60% of my lineups). So when he was injured early in the game, I figured I was going to have a down week. Oh well, poor week but great year I thought.
But, there were those 40% of my lineups that didn't have Arian Foster but often did have Andre Johnson (Texans were playing the Jags that week and had something to play for). Oh, and I also did sprinkle in some Eric Decker in my lineups, which apparently only like four other people in the entire world thought was a good idea to do. Near the beginning of the afternoon games, I realized that I had a lot to play for, and I ended up clearing almost $700K that day alone mainly due to finishing first, third and seventh in the DraftKings $2,000,000 Touchdown Championship.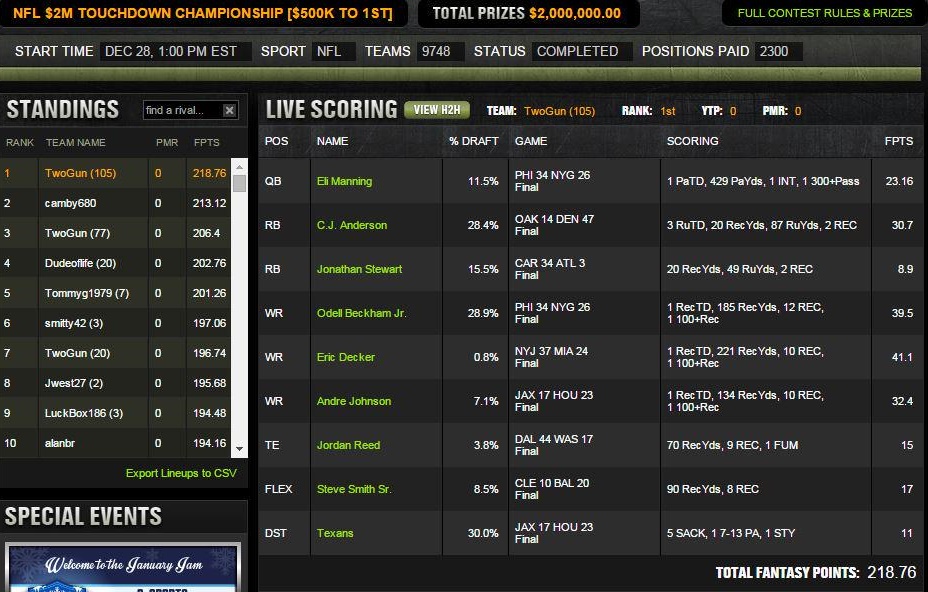 So I went from thinking I was going to have a down day to having by far the best day of my life. Talk about a way to cap off a year! I figured I wouldn't have that type of success again in 2015. I was due to have some sort of bad streak, and you just can't expect that much from NFL playoffs due to so fewer games. I lost a little in NFL playoffs the year before, so I just didn't think too much would happen until next football season.
Wildcard weekend ended up going well for me. I logged in a solid gain. There wasn't any sort of Millionaire Maker event that week, but I cashed in for a good amount and also won a ton of tickets for the DraftKings January Jam promotion (like 60 or so).
With the Divisional Playoffs approaching, I figured this was pretty much my last chance to really play fantasy football until September. The pricing was very interesting that week on DraftKings, and I pretty much decided I was always going to look for value in WR (and almost always use WR or TE as the flex) and hope they break a long reception for a TD or something.
My favorite WR value guys were Jermaine Kearse primarily and then Davante Adams. My fade was Terrance Williams since he had a big week before and I figured everyone would be on him. Both Kearse/Adams had games of their life, and Williams had just one reception (though for a TD).
I pretty much couldn't believe it when I took over first in the Millionaire Maker. Surely, I figured, I'd be out of contention by the end of the first half. But somehow, someway I held. It was an amazing ending to pretty much the hottest streak ever in my life.
What have you done with your impressive amount of winnings, both DFS-wise and in real life?
To be honest, not much yet. I haven't adjusted my DFS volume that much since it was already pretty high prior to the big wins! I'll likely buy a house later in the year and do some investments, but nothing too terribly interesting.
Or maybe I'll live up to my word and just blow it all on diamond-encrusted jewelry for my cats.
How did it feel to compete for the top spot in the TPOY race last year? Are you eager to claim the crown in 2015?
Definitely was exciting. After my big Week 17, I actually did a quick backhand calculation to see if I could maybe leap into first, but I knew I would be a little short.
I definitely would like to somehow win this year, but there are a lot of great DFS players. Whoever wins this year will definitely need to succeed at NBA, MLB, and NFL in my opinion….which basically means I have to actually accomplish something in MLB this year lol.
What advice would you give to a new DFS player?
I would mainly say to have fun. Don't be too serious at first since you may end up stressing out over things that really aren't important.
Make sure DFS is enjoyable. If it's something you like doing, then you'll naturally make more of an effort to focus and get better at it. Also, since you're new, make sure to take as much advantage of deposit bonuses as possible since those can really help pad your bottom line.
You've certainly already accomplished a lot, but what are your future goals in the ever-expanding DFS space?
As a player, my main goal is to qualify for a live event final. I never have!
We'd like to thank TwoGun for taking the time to answer our questions, and we wish him the best of luck in the 2015 TPOY race!