Lesson 2: Building Lineups from the Bottom Up
I've mentioned this approach in a couple of my RotoAcademy courses, but I have yet to fully dive into the benefits behind the process. Seeing as how this is a course devoted strictly to lineup building, it makes a lot of sense to include it here. Our natural inclination as fantasy sports players is to be drawn to the superstars. I have no idea the actual number, but I'd guess that the majority of DFS players start their lineups with their favorite superstar or two and build from there.
While a superstar may be an excellent play in a vacuum, it may not lead to the optimal lineup construction that we are always striving for, especially in cash games.
To read the rest of this lesson, you must purchase the course!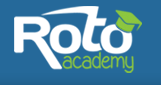 RotoAcademy offers one-of-a-kind, data-driven content to help you win.